A Black Bush Polder, Corentyne man was yesterday remanded over the murder of his teenaged brother last Sunday night.
Gopaul Sewsankar, also known as 'Romel', 23, of Lot 85 Yakusari North, Black Bush Polder appeared in the Whim Magistrate's Court and was not required to plead to the indictable charge.
The charge read that on March 20, Sewsankar fatally stabbed his brother Vishal Sahora, 18, also of Lot 85 Yakusari North, Black Bush Polder.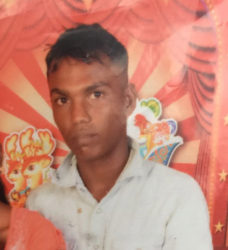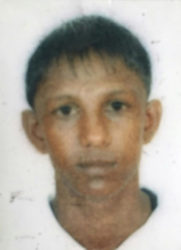 Magistrate Charlyn Artiga remanded Sewsankar, who was unrepresented. He is to return to court on May 16.
It has been reported that Sahora, one of his brothers, Samuel Sewsankar, and a friend of Sahora were imbibing under the friend's house when the suspect approached Sahora requesting to borrow his motorcycle.
Sahora refused and Sewsankar then allegedly dealt him a slap after which a scuffle ensued between them; Samuel and the friend intervened but were unsuccessful in parting the brothers.
The suspect then allegedly whipped out a knife he had in his possession and stabbed Sahora in the chest.
The incident occurred around 11 pm on Sunday. Sahora was rushed to the Mibicuri Public Hospital where he succumbed around 1 am on Monday while receiving medical attention.
Around the Web