Beepats, which is the authorised distributor of Brunswick Tuna has welcomed a decision by the authorities to crack down on a product which appeared to be an imitation.
In a statement yesterday, Beepats noted that the Government Analyst-Food and Drug Department (GA-FDD) and the Customs and Trade Administration had acted against the 2,000 cartons of canned tuna from China which was going under the trademark `Buiwick' and looked almost identical to the Brunswick can. Beepats said "The intercepted product was an obvious attempt to mislead and deceive Guyanese consumers who may have thought they were purchasing their regular Brunswick canned tuna."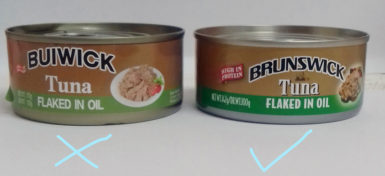 A statement from the GA-FDD said that according to the Food and Drug Act chapter 34:03 part (ii) section (6) this label is prohibited as it is false, misleading and deceptive. Further, the product's label was found to be inadequate according to the Food and Drug regulations of 1977, regulation 18 part (2) (a) clause (iii) – Labels.
The GA-FDD also said that the exact address of the manufacturer in the country of origin was also not stated.
Around the Web