Prime Minister Moses Nagamootoo yesterday launched Harmony Village on the Main Street Avenue and declared that Guyana's diversity is its beauty and  the strength of the nation.
Delivering the feature address at the Cenotaph on Main Street, Nagamootoo, according to a press release from his office,  said that Guyanese have transcended the history that spawned them, having overcome tribalism and casteism.
"We are all enjoying of status of the citizens of an independent country and not distinguished by which tribe we have come from. We have left behind the embarrassment of caste and we have all evolved into who we are and what we are – Guyanese, proud of our ancestry but not carrying the baggage of the past", the Prime Minister stated.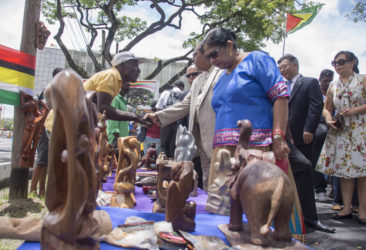 Held under the theme 'Beauty in Diversity, Celebration Guyana,' the event saw displays of local and international cuisine, cultural wear, artifacts and literature and also featured dance, poetry and folklore.
The release said that the Ministries of Indigenous Affairs; Natural Resources; Education; Health  and the Department of Culture, Youth and Sports;  the Venezuelan, Mexican and Cuban embassies, the Chinese Association, and the United Nations Development Programme were all involved in the exhibition under tents along Main Street.
Minister of Social Cohesion, Dr. George Norton, said that the Harmony Village which started at 9.30 am and ran until 6 pm was aimed at bringing into focus Guyana's culture and diversity.
The unveiling of a floating gallery, Norton said will involve the branding of a section of the Main Street Avenue with images of persons of varying backgrounds, the release added. "For too long when reference is made to the six races of Guyana, there is usually a picture of just one person representing each of those races, so the objective of the floating gallery is to put more faces to each race."
Sharon Patterson, Programme Coordinator, said 'Harmony Village' is just the beginning of what the Ministry of Social Cohesion hopes will blossom into an event that could be taken to other regions across Guyana.
Around the Web