Central government remained optimistic yesterday about a renegotiation of the terms for the suspended metered parking project, while contractor Smart City Solutions (SCS) has already fired 60 wardens who had been hired for enforcement.
Minister of State Joseph Harmon yesterday told reporters that central government has not taken a position on what will happen with the project after its three-month suspension as it is hoping that good sense will prevail and a favourable outcome would result from the temporary halt.
At a post-Cabinet press briefing, Harmon said that government is ready "to support a process of negotiation and consultation which will result in a favourable outcome; that is an outcome where the council, Smart City Solutions and stakeholders, that is citizens, all are ad idem [achieve a meeting of the minds] on the issues relating to the parking meter project and the contract itself."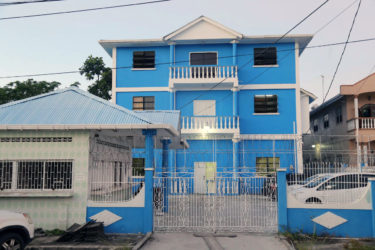 Following a delay by a majority of city councillors in acting on the order to suspend the by-laws, Communities Minister Ronald Bulkan on Tuesday issued a second order to suspend the project for 90-days.
The order was effective as of Wednesday, when SCS also issued letters to staff members, signed by General Manager Carlos Gochez, stating that "due to certain unforeseen circumstances, which have negatively impacted our business, your employment with us is being terminated March 22, 2017."
The letter, seen by Stabroek News, further noted that workers will be receiving all wages and payments due up until the end of their employment and assured that if circumstances were to change and their services are once again needed, they may be contacted for possible "re-employment with our company in the future."
While the wardens were dismissed by SCS, they were appointed by Town Clerk Royston King before entering into a contract with SCS. Each warden was on January 245 issued an appointment letter which stated that they were "appointed to the position of parking warden within the municipality of Georgetown and would be attached to SCS until further notice."
They later on February 1 signed a one year contract with SCS. While the contract provides for a basic monthly salary of $90,000, it also states that only days worked during the 1st -15th and 16th -31st of a calendar month would be included in gross pay calculation.
Additionally while "normal hours" of work are a total of 40 hours per week, the contract also states that employees may be required to work hours outside the normal hours of employment and in excess of these 40 hours without the company being required to pay further compensation.
In addition to this contract, which grants SCS the right to dismiss workers without notice, each worker was asked to sign a confidentiality agreement which irrevocably waives the workers' right to a trial by jury in any action, proceeding or counterclaim arising out of or relating to their agreement with SCS.
This agreement also requires that employees not disclose any information about SCS or affiliated companies and to resist the disclosure until an appropriate protective order may be sought and/or a waiver of compliance with the provisions of the agreement is granted for a full five years after they would have ended their relationship with the company.
Stabroek News attempted to visit SCS headquarters to speak with the country manager but several visits throughout the day found the office nearly deserted.
Around the Web