Youth from the Sophia Juvenile Detention Centre were recently able to benefit from an empowerment session with local comedian Kurt Jardine, popularly known as 'Chow Pow,' who shared how he was able to overcome drug addiction.
What was Jardine's first visit to the centre was organised by EPIC Guyana, a local non-governmental organisation (NGO).
Jardine shared the story of how he was able to turn his life around, from being a crack cocaine addict who slept on the streets to becoming one of Guyana's leading comedians.
Jardine, in an invited comment, told Stabroek News he did not hesitate to partner with EPIC-Guyana when contacted, since he saw it as an opportunity to impart a positive message to the youth incarnated at the facility.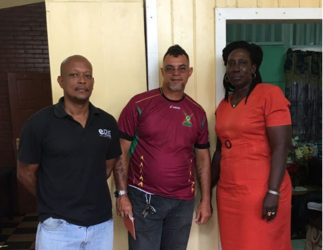 The session, he said, lasted 45 minutes and saw him focusing on sharing the struggles he faced as he worked to finally overcome his addition as well as the efforts he has made in building his brand as a comedian. Also included in the session were personal stories of deliverance, and timely interventions that have reaffirmed his faith.
Asked about the receptiveness of the youth he engaged, Jardine was happy to say he received positive feedback from the teens and pre-teens there.
Before leaving, Jardine also gave an impromptu mini performance and urged the youngsters to believe that where they are now does not dictate their future and that they have the opportunity and potential to become anything they desire, if they are willing to work towards it.  "I just wanted them to know that there were times when I felt like I had no purpose in life and so it wasn't until I found mine that I was able to overcome everything," Jardine said.
Around the Web