Driver Manx Powers, who was on trial for causing the death of former world champion boxer Andrew 'Six Head' Lewis, had the charge dismissed yesterday, when a court found that the police failed to prove its case against him.
Powers, of Campbellville Housing Scheme, was accused of driving PNN 596, on May 4, 2015, at New Hope Public Road, East Bank Demerara, in a manner dangerous to the public, thereby causing the death of Lewis.
During yesterday's ruling, Georgetown Magistrate Fabayo Azore told the court that the prosecution led no direct evidence that suggested that Powers was traveling at a high speed. According to the magistrate, one witness told the court that Lewis swerved across the road and did not put out his hand to signal.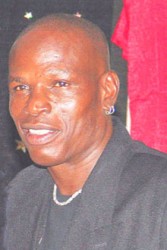 As a result, the magistrate stated that the prosecution did not prove its case beyond a reasonable doubt and dismissed the charge against Powers.
Powers has maintained his innocence in causing the death of Lewis. In his unsworn testimony during the trial, he had stated that Lewis, who was on a bicycle, dashed in front of his vehicle, which resulted in the fatal collision.
"I was driving cautiously, not in a dangerous manner to the public," he had told the court. However, he recounted that as he was about to pass the cyclist, the rider made a "dash" and tried to turn across the road and they collided. "It happened so quick," he added, "he went up in the air hitting the car again."
Powers stated that he pulled over quickly and rendered assistance to Lewis with the aid of public-spirited citizens. He added that an ambulance came and he waited until the police arrived on the scene.
With the announcement of the verdict yesterday, a family member of Lewis let out a loud wail, while others sat in shock. Tears began to flow from family members and disappointment settled upon their faces.
Prosecutor Stephen Telford subsequently gave oral notice of his intention to appeal the ruling.
Around the Web