he Government of Guyana is presently servicing the loan owed by Atlantic Holdings Incorporated (AHI) to Republic Bank Limited (RBL) of Trinidad for the construction of the Marriott Hotel.
Minister of Finance Winston Jordan told reporters yesterday that neither AHI nor its loan guarantor, National Industrial and Commercial Investments Limited (NICIL) can afford to service the US$15.25 million loan accessed for the construction of the hotel, which has forced government to absorb the biannual US$1.1 million in non-budgetary expenditure.
It has been reported before that Marriott is just able to cover its operating cost but is not earning enough to service the loan.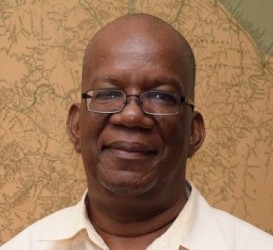 According to Jordan, the government currently owes US$748,000 for this period and unless AHI is able to assume the debt, it will continue to pay US$1.1 million every six months for the next 13 years.
"Even if it does well, it would not be able to pay its debt. Remember it is the entertainment part that is going make it …that is not being done so for the time being now unless we just say 'take the asset', it is the government which has to come in now.
That is an unbudgeted expense, where are we going to find the money? We have to find the money otherwise we lose the asset," the minister explained.
The 197-room Marriott hotel was constructed at a cost US$58 million. The majority of this was state funds but a total of US$15.25 million was received from Republic Bank Ltd as part of the US$27 million debt financing for it.
A 2015 forensic audit of the hotel had urged government to "proceed with haste" to sell the Marriott Hotel in light of uncertainty about the financial viability of its operations and rising costs that could take the final price tag for the project to at least US$98 million.
The audit conducted by former Auditor-General Anand Goolsarran had noted that there is a "serious risk" of default in relation to the Republic Bank loan used for construction.
In the report, Goolsarran explained that the loan is secured by "debenture and mortgages." He declared that these conditions have serious implications should AHI default in payment. The loan is repayable at rates of 9.15% and 8.65% during construction and post-construction phases, respectively, via 26 equal, blended, semi-annual payments of principal and interest. However, there is an 18-month moratorium on interest and a 24-month moratorium on principal from the date of first disbursement.
The report had also said that given the statement by Executive Director of NICIL Winston Brassington in relation to the absence of market intelligence on the operations of casinos, it is advisable not to proceed with the construction and outfitting of the Entertainment Complex estimated to cost US$12 million.
Around the Web