A split between the founders of the long running Link Show, Ron Robinson and Gem Madhoo-Nascimento, led to the dissolution of 'The Link,' and the emergence of a new satirical revue.
"Who Laff Last," produced by Robinson, debuted on February 24th, at the National Cultural Centre.
Robinson told Stabroek News that he was "restrained" from using the name "Link Show" by Madhoo-Nascimento, who had demanded a percentage of the proceeds although she was no longer involved in the show's production.
Robinson, therefore, having already made the booking for the annual show and deciding that he was capable of producing it on his own, opted to adopt a new name for the production, which would be his property alone.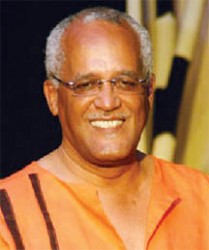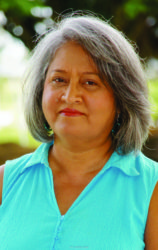 Madhoo-Nascimento, in an invited comment, stated that she had never gotten to the point of pursuing legal action against Robinson or even threatening such. She added that it was probably the knowledge that the possibility existed which led him to take the path he did.
She noted, too, that with her being a co-founder of the Link Show, the production cannot be done without her agreement.
According to Madhoo-Nascimento, the rift that led to her ceased involvement in the production may have been the result of creative and administrative differences, as she noted that she and Robinson had not been "seeing eye to eye."
She related that she had resigned from the Theatre Company as a Director, before going on to found GEM's Theatre Productions in 2002. She, however, had remained a shareholder in the Theatre Company, through which the Link Show was created.
The Link Show, which first hit the National Cultural Centre stage in 1981, was produced by the Theatre Company through a partnership with Madhoo-Nascimento and Robinson.
Robinson would produce the Link Show on his own for a few years, and there were also a few years where the production did not make it to the stage, but in 2009, the two would partner again to stage Link Show's 25th anniversary performance and this collaboration, according to Madhoo-Nascimento, would last until 2015. Madhoo-Nascimento said that she essentially "brought the show back to life" during that collaboration.
In an April 4th, 2010, column on the long running production's sabbatical, critic Al Creighton wrote, "Indeed, it is no longer a secret that it is unlikely that Robinson, the country's most established director, can produce the annual show without Madhoo-Nascimento, the country's most accomplished producer/manager."
Apparently, "Who Laff Last" was able to sway Creighton's opinion, if only in the lane of optimism. "This production was obviously a replacement for a show that grew to be a strong tradition. Will it suffice? Will it fill the place? Judging from the response it got from the multitudes, the way it entertained and provoked sustained laughter, it certainly started off in the right direction," Creighton wrote in his March 12th, 2017 Sunday Stabroek column on the production.
Around the Web