The Guyana Telephone and Telegraph Company (GTT) yesterday called on the government to initiate an independent investigation of what it says is an "illegal, unlicensed" cross-border link between Guy-ana and Suriname being facilitated by its competitor Digicel Guyana.
In a press statement issued yesterday, GTT said Digicel has acknowledged engaging in this illegal bypass activity at a recent meeting with the Public Utilities Commis-sion (PUC) and at other fora but has not been held to account by the relevant authorities.
Stabroek News attempted to contact Minister of Telecommunication Cathy Hughes for a comment on GTT's claims and request but the minister's phone went unanswered.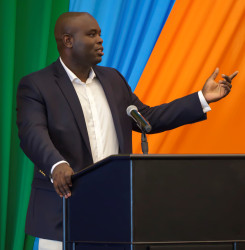 Meanwhile, Digicel Communications Manager Vidya Bijlall-Sanichara told this newspaper that her company would be issuing a response on Tuesday.
GTT has previously complained about Digicel facilitating inbound international bypass and the domestic distribution of inbound international calls. At the PUC hearing last Tuesday, GTT CEO Justin Nedd complained that Digicel has been running "an illegal link" that has cost GTT major losses. "Digicel has an illegal link that we have been talking about for several years. When we look at it, we estimate from our revenue US$40 to US$50 million that we have lost because Digicel is running an illegal operation," he said, while pointing out that they have raised the issue with the previous and present governments but nothing has been done about it.
When asked whether he has proof of his accusations, Nedd explained that he has personally visited Suriname and was told by regulators there that "they are appalled that the link is still working and nothing was being done."
According to the GTT statement, Digicel told the PUC meeting that its bypass operation was not appropriate for the discussion at hand, while never once denying any aspect of the operation.
"While Digicel acknow-ledges the bypass activity, the company has never answered questions or provided any specific information – instead, it makes excuses or launches new and unfounded claims that are meant to distract the public and the media," the GTT argued.
"There is no ambiguity about this bypass activity… which is causing very real and very significant harm to our country. It is essential that both the public and our leaders have the complete details about Digicel's bypass operations, and that they understand the full consequences of the company's actions, which are illegal and in direct violation of their license," it added.
These consequences, GTT said, relate to the financial loss incurred by government due to both unpaid taxes and spectrum fees.
"It has been estimated that the company should have paid US$30 million or seven billion Guyana dollars to the Guyana treasury over the last five years," GTT claimed, while adding that "in order to operate the bypass, Digicel must use valuable spectrum – spectrum that, by all appearances, the company has simply taken as its own, without payment."
The company argues that Guyanese and by extension GTT have a right to know whether this spectrum has been stolen by Digicel and to have released to the public documents which show whether Digicel has made tax payments on the revenue generated by this activity.
According to GTT, Digicel's bypass operation has been active for more than five years and over the last two they and others have called out this situation to various governmental agencies. "Over time, and especially more recently, we have been assured that the matter has the attention of the local regulatory authorities. However, to ensure openness and forthright conduct, and to establish confidence that all interested parties are being treated fairly and equitably, the Guyanese people must know the complete details of the unauthorised cross-border link," it said.
"Digicel cannot be allowed to flout the laws of Guyana by conducting an unauthorised international telephony business in violation of our laws and its licence – and possibly to the significant detriment of our economy," GTT added, while noting that with liberalisation on the horizon, the practice of equity and transparent conduct of all players is of paramount importance.
"The fact of the matter is, Guyanese citizens are arrested for significantly smaller transgressions than what Digicel has been doing for at least the last five years… so now, we must insist on action. Action that produces transparency and finally sheds a bright light on this dark activity that Digicel has been conducting. Action that shows whether the company has failed in its duty to pay a fair share of taxes on the revenue it has reaped from this activity. And action to hold Digicel accountable for its illegal operations and its ill-gotten financial gain," it declared.
Noting that since assuming office the government has pursued a number of audits to bring clarity to various aspects of our economy, GTT argued that it would certainly seem appropriate for a similar audit to take place in this situation "given the financial significance of an illegal bypass operation"
Around the Web