As companies from around the world gathered last evening for the inaugural conference hosted by the privately-owned Guyana Oil and Gas Association (GOGA), the United States used the event to underscore the importance of ensuring an independent Sovereign Wealth Fund (SWF).
"To put it bluntly, revenues can be fleeting, whether coming in or going out.  That is why the establishment of a comprehensive sovereign wealth fund is the cornerstone of, or crown jewel, in any new oil and gas regime," Deputy Chief of Mission and Chargé d'Affaires of the US Embassy, Terry Steers-Gonzalez, told attendees at the event, held at the Marriott Hotel last evening.
"A sovereign wealth fund will provide Guyana with the opportunity to invest in its long-term future. Prudent management of incoming revenues will ensure that outgoing investments by the government in its people do not simply last for as long as oil is pumped out of the ground, but beyond that, through the creation of diverse new industries and projects.  Such a sovereign wealth fund should be transparent, independent, inviolable, and non-partisan," he added.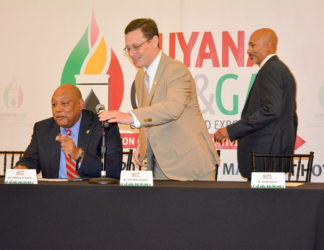 And as Guyana prepares for its oil and gas industry, with 2020 set as a first oil-pumping target date, Steers-Gonzalez reminded that it was the citizenry that will not only grow in scope and importance but play the most integral part in shaping the country's future.
Legislation and regulations, he noted, were key components in protecting Guyana's interests and promoting transparent resource management at all levels.  "The list of important legislation for the industry is vast and spans across the spectrum, from a Petroleum Act to regulations for a sovereign wealth fund; licences and fees for the new industry and, occupational, health, and safety standards," the US diplomat asserted.
Further, he added, "Not just the government, but the people of Guyana have an incredible opportunity to define the country's future.  That future starts with a carefully calculated strategic plan of action – formed from the collaboration of all stakeholders – that targets job creation, investment, and long-term revenue management."
The David Granger administration came in for high praise from Washington as Steers-Gonzalez reminded of promises made by government back in 2016 that it has held to.
It was Minister of Natural Resources Raphael Trotman who committed to put before the government in early 2017 the initial building blocks for a modern oil and gas regime to prepare Guyana for the transformational change that is to come.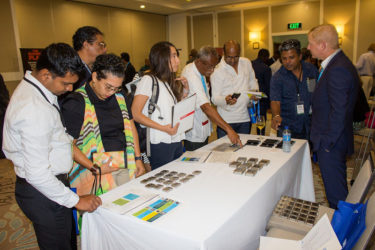 "I would like to recognise here the great achievement of the Granger administration to collaborate with Guyanese and international operators and investors alike to create the climate for these advances, while also promoting the principles of the Extractive Industries Transparency Initiative.  The two are not mutually exclusive.  My government, moreover, congratulates the honourable minister in following through on his commitment to put forward draft legislation soonest on oil and gas, and in a manner that includes all stakeholders," the American diplomat stated.
He said that as Guyana strives to build holistically through the involvement of its peoples, the United States remains committed to continue to provide counsel and assistance in support of Guyana's developmental plans.
"Certainly, Guyana is not and will not be alone on the road ahead.  The United States, along with other partners, has and will continue to provide counsel and assistance in support of Guyana's efforts to build industries – not just petroleum – that are transparent, responsive, and accountable to all," he stated.
But while he noted the help from outside sources, Steers-Gonzalez underscored the invaluable importance of the populace.  "It will fall to all of you to continue to advance a vision and implement a plan.  There is no amount of assistance that anyone can provide Guyana that can rival domestic political will, an informed private sector, and collaborative citizens," Steers-Gonzalez stressed.
Trotman, who spoke after Steers-Gonzalez, pointed out that his government had already begun implementing measures to ensure the citizenry's input and outlined a number of those.
Maximum
Trotman said that since the announcement of the discovery of oil in commercial quantities offshore, the APNU+AFC coalition made its focus on the sector to be one that was integrated and sought to get the maximum benefit for the nation. He went back in time to before Guyana's independence, all the way leading up to the oil discovery, as he emphasised the importance of planning for the future.
"Where we go from here will determine not only our next fifty years but certainly the next millennium. We require a whole of government, whole of industry, whole of society and whole of country approach. Partnerships are sine qua non for success and these have to be intra governmental, inter-governmental, between government and the operator, between government and  civil society, between government and the people of Guyana and most importantly between and among the people themselves."
"Certainly, we in government do not claim to be omnipotent or omniscient …we cannot get all that needs to get done by doing it alone. So government is seeking partnerships with individuals, with groups, with associations and even with countries that are prepared to work for the best interest of Guyana and its people. We seek like-minded partners," he added.
He said that government dubbed 2016, the year after it won office, as its year of preparation for oil and this year as the year for implementation of plans for the sector.
"We have forged partnerships that have not existed before with Chatham House … and with the Mexican Government Petroleum Institute and we have strengthened relationships with the United Nations Development (Pro-gramme), World Bank,  the Commonwealth Secretariat and US Department of State…," Trotman pointed out as he named a few of government's partners.
He also informed that among other updates was government's current assessing of ExxonMobil's other applications for both production and exploration, and processing of a proposal from one of the world's biggest offshore companies to establish a world class base at Crab Island in Berbice.
An update was also given on policy and legislative measures taken, pertaining to the oil and gas industry. "There is much planned for this year and going into 2020…" he said while noting "whatever we do, we must do together."
For their part, officials from GOGA, noted that the conference which begins today and ends tomorrow brings partners from around the world to network with locals as they hope to build an oil and gas industry which benefits all Guyanese. "We have an interest in ensuring that all of Guyana and all Guyanese benefit from the emerging industry," GOGA Executive Suresh Beharry said.
He added that the organisation understands that it will take some time for Guyanese companies to acquire the technical expertise and experience needed to serve the sector, but is optimistic but this will come through joint ventures.
The organisation says that it hopes to make the event an annual one growing in strength with each passing year.
According to GOGA, the conference has attracted participants from Guyana, Trinidad & Tobago, Suriname, Canada, the USA and Norway, among other countries. The event has as its major sponsors: Edison Chouest Offshore, Ernst & Young and Massy Energy.
The conference will commence at 8:30 am today and will see presentations from companies such as INTECSEA, Ernst & Young, General Electric, TechnipFMC, Edison Chouest Offshore, among others. INTECSEA is a global company within the WorleyParsons Group offering facilities for floating systems, offshore pipelines and subsea production systems.
Presentations will also be made by the Environmental Protection Agency and the Guyana Geology and Mines Commission.
Trinidad and Tobago's former Minister of Energy, Kevin Ramnarine, and Managing Director of Suriname's Staatsolie, Mark Waaldijk, among several other consultants and executives in the industry will make presentations.
The exhibition will be open to members of the public on the final day tomorrow from 10 am to 4 pm.
Around the Web