A block maker from Victoria, East Coast Demerara died yesterday morning following an accident on the Linden-Soesdyke Highway.
Stabroek News learnt that 29-year-old Simon Paul of Lot 30, Sideline Dam, Victoria was travelling to Georgetown from Linden  when he reportedly collided with a heavy-duty truck that was travelling in the opposite direction at around 12.30 am.
From investigations, police said Paul, who, was the lone occupant of motor car, PVV 9105, ended up in the path of GFF 5346. The top of the motor car was ripped away and Paul was flung from the vehicle following the collision.
Stabroek News was told that the occupants of the truck were taken to the Diamond Diagnostic Centre for medical attention while Paul was rushed to the Georgetown Public Hospital where he was pronounced dead on arrival.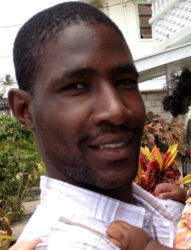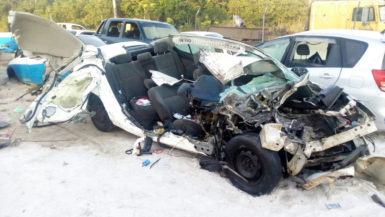 The driver of the truck after receiving medical attention was taken into police custody and is currently assisting with investigations.
Paul's mother Rhondall Paul told this newspaper that she is clueless on the events leading up the accident. "I don't know how it happened and right now I don't want to know how it happen," the grieving mother said.
Around 7 yesterday morning she said she was informed that her son was in an accident.  It wasn't until lawmen from the Cove and John Police Station showed up at her home that she suspected something was amiss and her worst fears were confirmed.
Stabroek News learnt that Paul was enrolled in the nursing programme at the Georgetown Public Hospital but he took a break over a year ago and began making hollow blocks and taking up construction work.
As the death of Paul circulated on social media, some commuters renewed their calls for lights along the Soesdyke-Linden Highway.
Around the Web