Works have finally started on the sinkhole on the sea wall road at the head of Vlissengen Road, and the surrounding areas are expected to be completed in six months.
Stabroek News visited the area yesterday and an excavator had already started digging around the area.
Former Chief Works Officer Geoffrey Vaughn had explained that when the work begins in earnest, the area from Queen Street to Vlissengen Road would be closed off and traffic travelling west along the Kitty Public Road would have to divert along Queen Street and exit at David Street.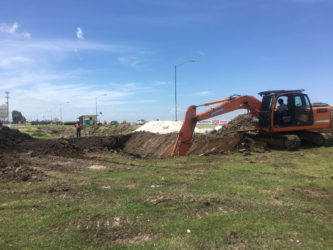 The first part of the work will see the Kitty Public Road closed off while the second part will see the junction at Carifesta Avenue, Rupert Craig Highway and Vlissengen Road closed off.
The $142M contract was awarded to Colin Talbot Construction Services.
"We need to replace several pipes that are under the road around the area and a provisional sum is in the bill in case of added works when the whole surface has been opened up," Vaughn had said, while stating that when the workers actually get under the road they might discover that the damage is more severe that they had initially thought.
Around the Web