Two men, facing separate robbery charges, met similar fates yesterday when they were both remanded by a city magistrate.
Seon Charles, 28, and Sherwin Kansanally, 36, appeared before Magis-trate Judy Latchman to answer to the separate robbery charges.
Charles, of 348 Cummings Street, Albert-town, was read two charges. It was alleged that on March 24, at Sussex Street, while armed with a pointed object, he robbed Faith Samuels of a $9,000 bag and a $2,500 umbrella. It was also alleged that on the same day and at the same place he robbed Shem Legall of a $40,000 HTC phone and a $45,000 Samsung phone.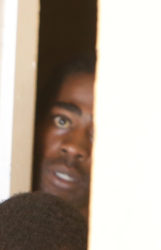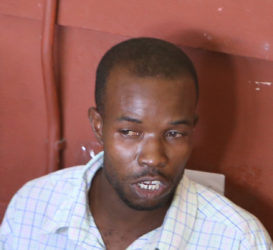 Charles pleaded not guilty to the charges.
Attorney Paul Fung-A-Fat stated that his client should be released on bail. He argued that no identification parade was conducted, nor was a caution statement taken from his client, also that the charge also did not state what the pointed object was.
Prosecutor Gonsalves objected to bail being granted since a pointed object was used and he also cited the manner in which the offence was committed.
Charles pleaded with Magistrate Latchman to grant him bail, stating that he only recently paid for a course at Global Techno-logy, which was due to begin on April 3. He added that on the day he was told of the crime, a police officer took his bike and told him to collect it at the station. He said when he turned up at the station, he was arrested.
Charles also showed the court parcels of pills that he is currently taking for dengue fever.
His pleadings, however, failed to move the court and he was remanded to prison until April 10. The magistrate's decision sent Charles into a fit of tears and he begged to be granted bail so he can commence his classes.
Meanwhile, Kansanally was also remanded after being read a charge which stated that on November 2, 2016, at Cummings Street, while armed with a knife, he robbed Delicia Barnes-Dixon of two gold chains valued at $120,000.
He also pleaded not guilty.
Attorney Jed Vasconcellos, who represented Kansanally, a well-known bus conductor, said that his client was picked up last Thursday and no identification parade was conducted. According to the attorney, Kansanally is the sole breadwinner of his home and he takes care of his 65-year-old mother, who requires assistance, and his two children and a nephew.
Prosecutor Gonsalves once again objected to bail being granted while stating that the defendant was positively identified by the complainant.
Like Charles, Kansanally was remanded until April 10.
The magistrate's decision to remand the man shocked his supporters in the courtroom, and one man said, "He is not no thief." Their distress moved from the courtroom to the courtyard, with tears being shed along with screams of apparent dismay.
Around the Web