The Mayor and City Council (M&CC) is looking to introduce new services at the Albouystown Health Centre (AHC) when it reopens following renovations which are expected to be completed by mid-April.
A decision was taken during yesterday's statutory meeting to grant an extension of two weeks to the month-end deadline, following a report from City Engineer Colvern Venture that it could not be met.
Team Legacy Constituency Councillor Malcolm Ferreira recommended that additional time be given for the completion. He stated that he has seen much progress as a result of the deadline being imposed and asked that the council consider an extension.
As a result, a motion was moved to change council's previous decision for the building to be completed by March 31.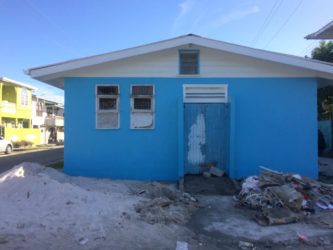 The motion, which was amended by APNU Councillor Oscar Clarke and seconded by APNU Councillor Heston Bostwick, was then moved by a majority of councillors. AFC Councillor Carlye Goring and APNU Councillor Trichria Richards abstained from voting.
Chief Health Visitor Nurse Beryl Springer had explained at a press briefing, that the new services would allow for residents to access aspects of health care they would normally receive at the Georgetown Public Hospital.
Springer added that the AHC would be collaborating with the Public Health Ministry to introduce clinics for chronic non-communicable diseases, dressing of wounds and voluntary counselling and testing for HIV, along with pharmacy services. The AHC will continue to offer pre and post-natal care along with immunization services. In addition, with assistance from the Public Health Ministry, Springer said, monthly or at least quarterly dental care services could be offered.
The AHC will also operate five days a week, as opposed to the three days a week it was opened in the past.
Mayor Patricia Chase-Green had imposed the month-end deadline after numerous questions were asked as regards the completion of works, given reports of illicit activities taking place at the building.
In January, during a statutory meeting, Ferreira had stated that the building was being used for unintended purposes and called on the M&CC to quickly complete the repairs.
Rehabilitation of the building, located at James and Bel Air streets, started in March 2016, but it was halted on numerous occasions owing to unavailability of money. The work was pegged at $3 million and had been expected to be completed in May 2016. To date, Stabroek News was told, more than $3 million were expended on the rehabilitation of structure.
Around the Web