The police late last week arrested a deportee who is suspected to be the prime suspect in the murder of Levan Chanderpaul, whose body was found buried in the Number 68 Village backdam seven months ago.
Crime Chief Wendell Blanhum told Stabroek News yesterday afternoon that the police had arrested the suspect, who has been identified as Munilall Sarjoo called "Baby" or "Long hair", 47, a livestock farmer of Number 67 Village, Corentyne, Berbice last Thursday in Berbice.
The suspect's initial detention period had expired and the High Court granted the police more time to keep him.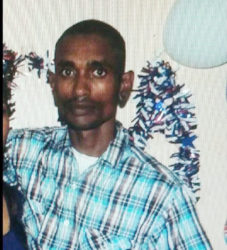 The suspect was reportedly last seen in company of Chanderpaul. He was arrested after the police received information that he and Chanderpaul had an issue after he allegedly gave him money to purchase drugs which he failed to deliver.
Information revealed that the suspect was arraigned in Canada for stabbing a woman and attempted rape and had been returned to Guyana in 2010.
The police are expected to seek legal advice today in the matter which will determine the way forward.
Chanderpaul, 26, a fisherman of Lot 116 Number 68 Village was found bound and with chop wounds about his body on August 24, last year, two days after he was reported missing. The discovery was made at the Number 68 Village backlands.
A post-mortem examination had revealed that Chanderpaul died after sustaining a fractured skull.
A number of persons, including a man who had threatened Chanderpaul on numerous occasions, had been arrested but subsequently released.
Around the Web