Students living in Lethem and travelling to and from school will now be able to benefit from a bus service at a reduced cost, compliments of the Lethem Town Council.
According to Lethem Mayor Carlton Beckles, the initiative was birthed after the council recognized the financial burden families faced when sending their children to school. Thus efforts were made to procure a 32-seater bus at a cost of $9 million, specifically for this purpose.
Stabroek News understands that the bus made its inaugural journey on Thursday and transported the students to school free of cost on Thursday and Friday.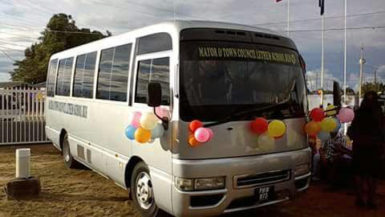 However, the payment system took effect from yesterday and will see each child paying the required fare of $1,000 per week (200 per day).
It was further explained that the bus will provide service to six schools within the municipality including the St Ignatius Secon-dary School, two primary schools and three nursery schools; teachers will also be able to benefit from the transportation service.
Beckles, in a press statement, said although many communities across the country benefited from the President David Granger school-bus initiative, Lethem has so far not been a recipient.
"So from the municipality we have purchased this bus to get the children to school at an extremely reduced fare," Beckles remarked. He said that a second bus will be purchased in the coming months.
In addition to providing much-needed financial relief to the parents in the communities, the bus service is intended to be of economic benefit to the municipality as the funds garnered from the service are earmarked for education development in the municipality.
"Parents have to pay as much as $2,000 or $2,500 a week per child and that is from Lethem to St Ignatius. If you have three children going to school and you are paying between $2,000 and $2,500, you are paying between $6,000 and $7,500 a week," Beckles pointed out.
Deputy Mayor Maxine Welch made it clear that the school bus system is not one that is meant to compete with private service providers, but was initiated to assisting children in the communities that traverse long distances on foot to and from school, the statement said.
She added that parents who have more than one school-aged child and who live in far-flung communities may not otherwise be able to afford the cost of transporting them to school.
Welch disclosed that parents who can afford it use taxis at a cost of as much as $3,000 per child.
The Deputy Mayor expressed confidence that the new transportation arrangement will boost student attendance and punctuality.
"There are so many things that we as a council can do to enhance the education system in this region. This is just one of them. In the future we will be working towards implementing more of what we hope to achieve during our tenure in order to ensure that this municipality and the region benefit," Welch stated.
Regional Chairman Bryan Allicock, in brief remarks, applauded the municipality's initiative, which he said will be of tremendous benefit to the community. Regional Education Officer Marlene Sears-Joseph who also attended the commissioning ceremony made mention of the benefits of the service.
Around the Web