The Board of the Central Housing and Planning Authority (CH&PA) has a new head in the person of Pastor Elsworth Quintel Williams.
The appointment of Williams, Pastor of the Albouystown Fellowship and leader of the Guyana Apostolic Team, was revealed by Minister within the Ministry of Com-munities, with responsibility for housing, Valerie Adams-Patterson yesterday at the CH&PA's National Planning Forum held at Regency Hotel.
Other members of the board as announced in the February 16, 2017 Gazette are Chaitram Harry Persaud of the Anna Regina Town Council, Winifred Heywood of the New Amsterdam Town Council, Ranwell Jordan former Mayor of Georgetown, Tricia Hamer of the Rose Hall Town Council, Shantaram Sugrim of the Corriverton Town Council, Brian Lewis of the Linden Town Council, Sonia Gumbs Luke of the Environment Protec-tion Agency, Michael Hutson of Guyana Lands and Surveys Commissions, Naresh Mangar Central Board of Health, Egbert Carter, Mallika Mootoo and Thandai McAllister.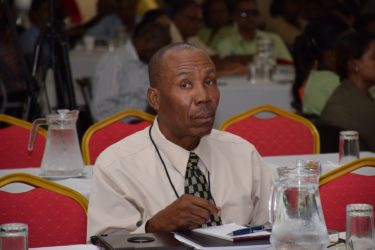 In January, Minister of State Joseph Harmon had announced the dissolution of the last board at a post-Cabinet press briefing.
At the same briefing Harmon had stated that as part of government's plan to establish an age requirement for persons who sit on state boards, agencies and commissions, incumbent chairman Hamilton Green would not be returned to the new CH&PA board.
Following Harmon's announcement, confused board members had told Stabroek News that they had actually met in January and were supposed to have met again as late as February 23. That meeting saw an impromptu cancellation as the Secretary of the board informed all members that the meeting had been called off and they would be notified as to the way forward soon.
Sources told this newspaper that several of the members were baffled since Green was still signing documents in the capacity of chairman up to February 22.
When Stabroek News contacted Green on February 23, he would only say that he was still unaware of the board's dissolution. He had been appointed chairman of the CH&PA board in October, 2015.
Harmon in response to these concerns had said that the Board should have been aware of its dissolution and offered apologies if it was not but was quick to explain that when the new board was approved, all parties will be formally notified.
He also explained that the board was dissolved because the "rancour" between it and the agency's staff saw very little work being done.
The minister, in an interview with Stabroek News, pointed to the fact that the CH&PA had only spent 20 per cent of its budgetary allocation last year, primarily due to internal conflict between the Board and CH&PA staff.
"For last year, the CH&PA, only 20 per cent of the budget was spent. Can you imagine 20 per cent? How can you have a housing sector that is so critical to the development of this country and you have an authority that is wrangling with another? Every time a letter has to be signed for something, you have to wait one month, two month and they telling the Minister [in the Ministry of Communities Valerie Patterson] all sorts of nonsense. She has reported it…one time she announced the 50/50 [scheme for land payments] and the board came back and said that was unlawful, this was unlawful. It was too much of rancour," Harmon stressed.
"There is a saying that when elephants are fighting, it is the grass that feels the heat. So while all of that was going on, all of government's programme for housing this nation was being stymied. You allocated sums of money and because of internal this and that and so on, it can't be done. I mean for a whole year? Come on! How am I going to stand up to you next year and say 'Well coming up in in 2020 vote for me because I have done this; I have given so much houses, developed communities' but when monies are allocated it is not spent? The confusion man, the expenditure on housing and the housing sector for a whole year was ridiculous," he added.
Around the Web