Taxi driver Michael McLeod, who police claim was found with over 50 pounds of cannabis in his home last October, was yesterday freed of a drug trafficking charge after the main witness in the case was a no-show.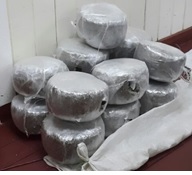 McLeod, 60, was charged with being possession of 24.712 kilos (equivalent to 54.48 pounds) of cannabis on October 22, 2016, at Prashad Nagar, for trafficking. He was a remanded prisoner until his acquittal yesterday.
The police had originally said that, acting on information received, ranks went to the suspect's home and conducted a search, during which 13 taped parcels of the illegal substance were found.
McLeod, of Prashad Nagar, denied the charge, which was dismissed yesterday by Georgetown Magistrate Judy Latchman after the prosecution's main witness did not appear in court to give evidence. In dismissing the charge, she stated that there was insufficient evidence presented by the prosecution.
Around the Web