The police file involving an officer, who had allegedly shot at a businessman who approached his car which was parked along the Fairfield Public Road, East Coast Demerara (ECD) almost two months ago, was yesterday sent to the Police Complaints Authority for recommendations.
This was confirmed by a reliable source who yesterday related to Stabroek News that the police have completed their investigation into the incident.
The lawman, Assistant Superintendent of Police (ASP) Ravin Dass, was placed on close arrest following the incident, but he remained on duty.
Bertrand Robertson of Lot 3 Rebecca's Lust, Mahaicony, ECD, sustained a gunshot wound to his left ankle on February 6. He claimed that he had approached the ASP's vehicle to enquire if any help was needed.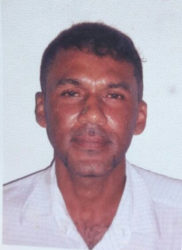 The police in a statement had said that investigations revealed that the gazetted officer was returning to Georgetown from Berbice when he felt sleepy and decided to stop along the Fairfield Public Road to take a rest. "He [Dass] alleged that he was subsequently awakened by someone knocking on the window glass of the driver's side where he was seated and he lowered the glass and saw the suspect who enquired as to his presence there, to which he explained," the police had said.
The release stated that Robertson then removed the car key from its ignition and as Dass attempted to retrieve it, Robertson drew a hatchet. As a result, the police said Dass immediately drew his service revolver and discharged two rounds, hitting Robertson in the left ankle.
However, Robertson's account of the shooting differed. He had explained that he and a cousin were driving by when they noticed a vehicle, which had no lights on, parked along the roadway. He said in an effort to check if anyone was in the parked vehicle, he knocked twice on the driver's window and he was greeted by the police officer, who discharged two shots in his direction.
"I started to run and after my cousin realised that I was shot, he hide behind my vehicle," the businessman had related.
He ran into a nearby compound and alerted a guard. However, he noticed that he was followed by ASP Dass, who was pointing the gun in his direction.
The weapon along with two spent shells were recovered at the scene and the hatchet was lodged, police had said.
Around the Web