Guyanese will soon be able to expand their dining options with the grand opening of the first local Johnny Rockets franchise.
Located on the ground floor of the Medicare building on Hadfield Street, Johnny Rockets will officially open its doors to the public on Thursday at 8 am, with a menu of burgers and shakes on offer.
Preeta Mangar, co-owner of the new franchise, told Stabroek News that the decision was based on her love for burgers.
"In Guyana, there's a lot of chicken, a lot of pizza and we know a lot of people like burgers, so we figured why not? Johnny Rockets is known for its burgers and everybody loves them. Same goes for the milkshakes. So, we thought it was perfect," Mangar remarked.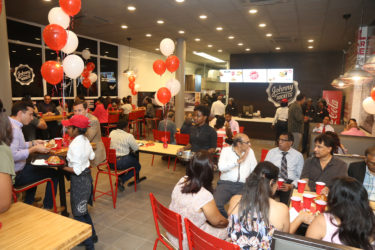 "We asked a lot of people what they thought and got a lot of good reviews, so we went ahead with obtaining the franchise," she added.
An American restaurant franchise, whose themed decor is based upon 1950s diner-style restaurants, the Johnny Rockets Group Inc, according to Mangar, will give customers that "retro feel."
"It has a lot of character to it and has a lot of singing and dancing involved. Another thing is that they don't look at their food as fast food; their burgers are always made to order," she noted.
Meanwhile, with regard to the menu offered, Mangar said, "It goes from very basic to addings; you can get a basic beef burger with lettuce, tomatoes, onions and relish or you can add caramelized onions, mushrooms, pepper jack cheese, jalapeno peppers and so much more. We also carry vegetarian burgers and then we have grilled chicken for those who may be watching their weight; we have grilled chicken salads and crispy chicken salads. Our menu is very diverse and has something for everyone."
Though the downtown location is the sole outlet right now, Mangar noted that plans to expand will materialise in the years to come.
At present, the employment number for the new fast food outlet stands at 54, and includes kitchen and floor staff as well as four managers.
Once officially opened, the restaurant will be open seven days a week. Opening hours are from 8 am to 11 pm from Monday to Saturday, and from 10 am to 11 pm on Sundays.
Around the Web