A Number 64 Village, Corentyne man was remanded to prison yesterday when he appeared in the Springlands Magis-trate's Court.
Tomashwar Brijlall, 32, a gas station bookkeeper of Number 64 Village, Corentyne, was yesterday charged with causing the death by dangerous driving of Irshad Mamood, a welder of Number 77 Village, Corentyne. He was not required to plead to the indictable charge.
Brijlall was also charged with failure to render assistance to Mamood, to which he plead not guilty.
Police Prosecutor, Inspector Bernard Browne objected to bail based on the gravity of the offence and the likelihood that the accused may not return for trial since he had reportedly fled the scene of the accident.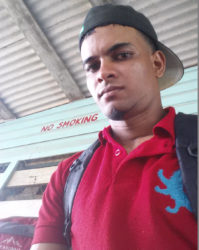 Magistrate Rabindranauth Singh refused bail and suspended Brijlall's driver's licence pending the determination of the matter.
Brijlall is scheduled to return to court on April 13.
Meanwhile, according to information gathered, on March 10, Brijlall had appeared before Magistrate Rabindranauth Singh, where he was charged with driving under the influence of alcohol. Brijlall had reportedly pleaded guilty to the offence and was fined.
Mamood, 20, of Lot 51, Number 77 Village, a welder at the Skeldon Estate, was riding his motorcycle around 8:30 pm on Sunday and was attempting to enter Sukhpaul's Gas Station in Springlands, when he collided head on with Brijlall's Toyota Fielder. The result of the impact saw him being pitched some 30 feet away.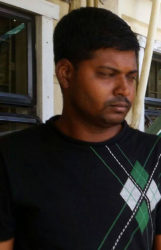 Mamood's girlfriend, Reshma Ramdatt, 18, with whom he had been living with for just over a week, witnessed the entire incident. Ramdatt was sitting in front of the gas station, when Mamood rode further up the road to speak with an acquaintance.
At the time of the incident Mamood was not wearing a helmet. Accord-ing to relatives, since he was not going too far, he had left the helmet with his girlfriend at the gas station.
A post-mortem examination revealed that died from a fractured skull and haemorrhaging.
Mamood, the older of two brothers was laid to rest yesterday. He was described as having always being willing and caring. He leaves his parents, girlfriend, brother and other relatives and friends to mourn.
Around the Web