A prison officer attached to the Georgetown Prison was arrested on Tuesday evening after he allegedly attempted to smuggle a quantity of cannabis into the facility.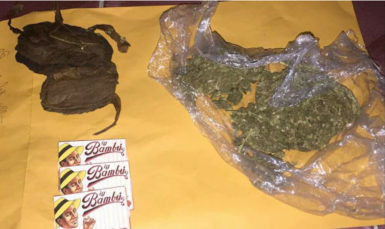 Stabroek News was reliably informed that around 8 pm on Tuesday, Prison Officer 3398 Stephon Sobers left the prison compound in order to purchase food at a nearby restaurant.
Upon returning, he was subjected to a search at the gate and the cannabis was reportedly unearthed in a black plastic bag in his pants pocket. It was weighed and amounted to 113 grammes.
Deputy Director of Prisons Gladwin Samuels in a Facebook post made on Tuesday evening said, "Words seem to be falling on deaf ears. Every day officers are reminded of their roles and functions…. they are reminded why we are employed in the capacity we are. However, all the talking, preaching and praying seems not to be working."
In the post, Samuels also said, "This situation must end if we are to successfully rehabilitate offenders."
Sobers, who has been a prison officer for some three years is in custody as an investigation is being conducted. He is likely to be charged soon.
Around the Web