A maintenance worker at Alpha Hotel, Ogle, East Coast Demerara, was shot once to his abdomen by an elderly woman, after he allegedly refused to remove from the fence separating her yard from the hotel.
The shooting, which occurred at around 6.50 am yesterday, left Brandon Collins, 23, of Manchester, Corentyne, Berbice hospitalised at the Georgetown Public Hospital.
The police yesterday said in a release that Collins was clearing vines from the hotel's fence when he was asked to remove, by the owner of the house next door, but he ignored her.
The suspect, a 69-year-old woman, who is the licensed holder of a small calibre weapon, allegedly armed herself and discharged a round at Collins, which struck him in the abdomen, the release added.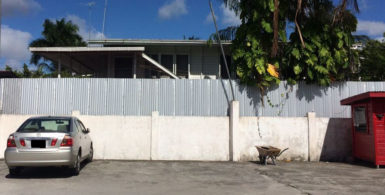 When Stabroek News visited the hotel, staff claimed that Collins had turned his back to remove himself from the fence when the woman shot him.
"He had been trimming the trees that was over the fence. He had finished the front and was working at the back and the woman was standing on her verandah. She turned and tell him to come off the fence before she shoot him," an employee, who asked not to be named, said.
According to the employee, Collins did not remove himself right away as other employees in the compound indicated to him that it was a toy gun.
"She knew he was cleaning the fence and she knew him because he had clean up for her already… I don't know why she shot him," said the employee.
The suspect has since been taken into custody and her firearm lodged. She is assisting with the investigation, the police said.
Around the Web