Students of the University of Guyana's Turkeyen Campus yesterday staged a protest against plans for a phased 35% tuition fee hike.
The protest was held outside the Education Lecture Theatre, where Vice-Chancellor Professor Ivelaw Griffith and the University Council were meeting to address the proposed fee hike and other issues facing the institution.
The protestors, some with placards, chanted "35% no way," as they voiced their concerns over the proposed increases.
Public Relations Officer for the University of Guyana Students' Society (UGSS) Christina Basil said that there was little to no consultation from the university's senior administration on the increase.  "They were not properly communicating with us and thus we were put on the spot.  We had our first meeting on March 18, where there was a proposed increase, but days ago he [Professor Griffith] met with the UGSS President Ron Glasgow and put 20% on the table and the UGSS President and team were able to get that down to 15% but we still recognised that this was a very high increase," Basil said.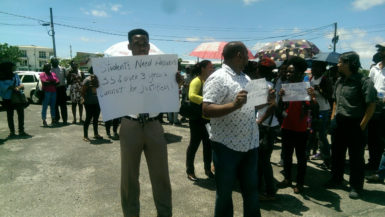 Students said that the university should raise the standards at the institution, including the facilities, before the administration asks for a raise in tuition fees.
"I believe the Vice-Chancellor is being a bully and I believe it is unfair for him to say that he does not need to consult with the students and it is really appalling," third year student Joel Lee told Stabroek News.
Lee noted that the original 35% proposal called for a 15% hike in the first year, then 10% in two following years, which he said students cannot afford to pay. "There was an increase three years ago and that was an increase in miscellaneous fees. It was exorbitant but students have managed to still make that but to come with another increase—it's like when will it end?" Lee questioned.
10Another third year student from the Faculty of Technology, who did not want to be named, said the university had promised better facilities, such as classrooms and washrooms, with the increase in the miscellaneous fees just three years ago. "How can we give them more money if they are giving us nothing in return? They need to improve the facilities they have already," the student argued.
The students were told that after the council meeting yesterday they would receive word on the proposed hike in their tuition fees.
Meanwhile, Minister of Education Dr Rupert Roopnaraine, who was on campus for the opening of a new lecture theatre, told Stabroek News that he will be making recommendations to the Ministry of Finance and the Guyana Revenue Authority on what could be done with the funding that could be allocated for the university. The minister noted that he has been aware of both the protests by students against the proposed tuition hikes, and the protests by the University of Guyana staff unions, who are asking for negotiations on increases for wages and salaries.  The minister said he believes presentations should be held with the Ministry of Finance so some sort of solution can be put in place.  (Jonelle Fields)
Around the Web