Seeking to do business in Guyana once again, Lawrence Duprey, Chairman of CL Financial and other officials of the company met with Minister of Finance Winston Jordan last Thursday and signaled plans to "make amends" for the approximately US$40M debt owed mainly to the National Insurance Scheme (NIS).
A statement issued by the Ministry of Finance on Wednesday said Duprey indicated to Jordan that "he would like to renew his relationship with Guyana as well as publicly apologise to its people for the collapse of CLICO Guyana."
The statement added that Duprey, the majority shareholder of CL Financial, also informed Jordan that his company was interested in investing in several areas here, including providing solar energy at competitive prices, affordable housing, clay brick and solar for housing as well as introduce a financial model that will generate savings and lower poverty.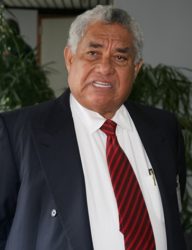 Jordan, it noted, informed Duprey that he will apprise Cabinet of the discussions and advised that future engagements could be conducted on parallel tracks: discussion on recovering monies owed by CL Financial and investment in Guyana.
Both the Minister of Finance and Duprey and his team agreed to a follow up meeting, the statement said, while noting that the Governor of the Bank of Guyana, Dr. Gobind Ganga will be consulted to determine the status of all outstanding matters relevant to CLICO Guyana.
CLICO (Guyana) collapsed in 2009 after its parent company, CL Financial, had to be bailed out by the Trinidad government and its sister companies experienced grave financial problems.
CLICO's collapse followed its loss of $6.9 billion (US$34 million) in the liquidation of CLICO (Bahamas).  Those monies represented 53% of the local company's assets. The Bahamas subsidiary had invested the money from the Guyana company in Florida real estate that went bust.
At the time of CLICO's collapse, its liability to the NIS was $5,482,446,199 for thirteen Executive Flexible Premium Annuity (EFPA) Policies which matured over the period 2009 to 2012. Since then, the Camp Street CLICO Building has been transferred to the NIS at a value of $600 million, thereby reducing the reconciled amount to $4,882,446,199.00.
Around the Web