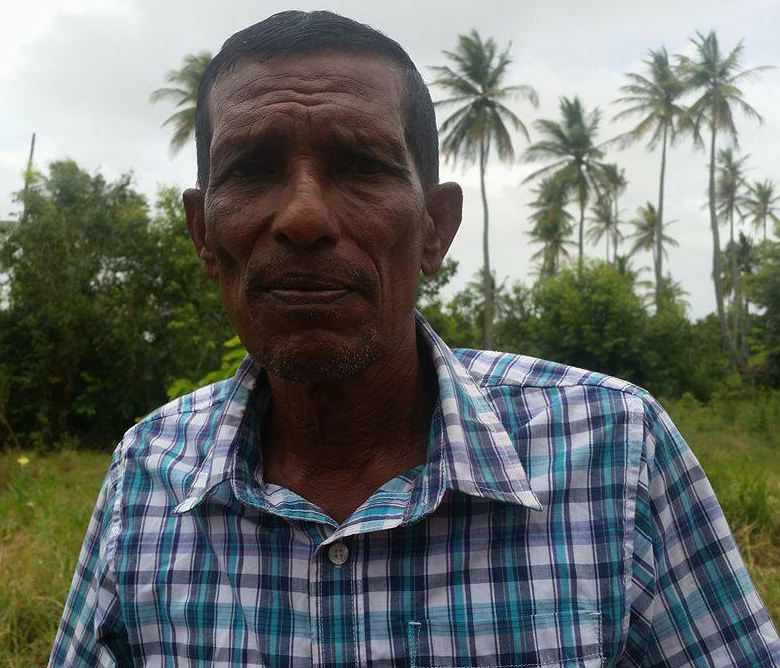 Skeletal remains, suspected to be those of Lilwantie Balack, were yesterday found buried in a farm behind her Black Bush Polder home, where her husband directed police after he reportedly confessed to strangling her.
Commander of 'B' Division Ian Amsterdam told Stabroek News that parts of a skeleton that were recovered would have to be sent for DNA testing to confirm whether they belong to Balack, 39, also known as 'Darling,' who has been missing since September 6th last year.
After digging for over two hours, lawmen found the remains buried in the two-and-a- half acre farm behind the Lot 117 Mibicuri North, Black Bush Polder home that the woman shared with her husband, Sunildat Balack, 45. Both he and his recent live-in girlfriend remained in custody up to yesterday at the Whim Police Station. A team comprising the division's top investigators and members of the Major Crimes Unit is spearheading the investigation.
As police removed the remains yesterday midday, scores of persons who had gathered, including relatives and neighbours, were seen shaking their heads in disbelief.
Amsterdam said that with the suspect's direction, the policemen were able to discover the remains, which were buried some six feet deep. According to him, no other item was found among the remains.
On Wednesday, with the guidance of the Prime Minister's representative in Region Six, Gobin Harbhajan, Lilwantie Balack's eldest daughter, Darshanie, filed a report at the Whim Police Station.
Darshanie, 20, had told Stabroek News that on September 6th, last year, her father visited her home at Friendship Village, Corentyne and informed her that her mother would not be able to attend her then upcoming wedding, since she had left the country. She noted that she believed her father since she was aware that her mother was the holder of an American visa and at that time she did not suspect that her father would have any reason to lie to her.
However, Darshanie became suspicious after her mother did not make contact with her after several months passed, while her father's explanation of her whereabouts continued to change. "…He give everybody different, different direction. First, he tell us that my mother is at Cane Grove… He tell my brother at 66 Village [Corentyne]. When I ask my grandmother, she say she is at Mahaicony," the young woman related.
According to her, her father had told her brother that someone had picked up their mother in the night. "So them ask he if somebody come pick she up she na carry none clothes or nothing. He tell them that the people them wah pick she up bring clothes and so for she," she said, while noting that all of her mother's belongings were still at her Black Bush Polder home at the time of her disappearance.
Darshanie said that her family's suspicions grew when two months after her mother's reported departure, her father took home a new woman. Darshanie noticed that the woman, who is 21, was wearing her mother's wedding ring. "I can watch the ring and know is my mother ring, it fade out and so," she said, while noting her surprise that her father was in possession of the wedding ring, since her mother would never take it off.
After Darshanie filed the police report, lawmen swiftly took Darshanie's father and his girlfriend into custody on Wednesday afternoon.
Sunildat, a farmer, is said to have cracked on Thursday evening, when police say he confessed to investigators that he was responsible for his wife's disappearance.
Amsterdam had confirmed to Stabroek News that Sunildat admitted that he and his wife were involved in a heated argument that became physical. He said the man told investigators that they argued over her wanting to leave the country, which he was against. He said he choked the woman until she died and, in an effort to cover up his crime, he waited until nightfall and buried her body in their backyard.
Darshanie had told this publication that her father and mother would often fight but would normally settle their issues on their own. "Them does fight and suh. He used to hit she but them use to solve up the problem them self," she explained.
'Live good'
Scores of residents of Black Bush Polder and surrounding areas on the Corentyne gathered around the Balacks' property, which was cordoned off by police, to witness the dig for the suspected remains of the woman. Those gathered stood, sat and even lay on the dams despite the intense heat yesterday morning.
Among them was Lilwantie's father, Chattergoon Budhram, also known as 'John', 69, of Lot 649 New Scheme Chesney, who rushed to the grave after investigators left the scene. The man, who recently suffered a stroke, could barely walk but he traced the path, crossing over a single board, to reach the location where his daughter was reportedly buried. He told Stabroek News that he was sad at the situation. "She is a kind person, she always come and talk and mix," Lilwantie's stepmother added.
One neighbour, Gowmattie Edward, 46, of Lot 101 Mibicuri North, stated that the couple used to "live good." She then added, "The man is a kinda hot blooded man when he drink, he don't really talk, talk to people."
According to the woman, she has never witnessed the couple fighting. "She don't go nowhere alone; anytime them going out is the two of them together," she, however, added. "The man is a kinda man like that—he don't want he wife go people place and, so, most time she deh home."
Edward noted that the husband and wife would usually plant on their farm together. "After a sudden so, them two went New York, then them come back and then he alone go back and when he come back he said he wife would a go back and take a walk," she related. "We hear he daughter get married and me ask he how was everything and he said everything went alright but he had to act father role and mother role and then me say where she deh and he say she get through and she gone, that he go spend some time with he children them, let she go walk and we never see she back," the woman added.
She further noted that the man kept extending the date when his wife would supposedly return from overseas.  She added that she asked again how he was making out and he said he would bring nephews to live with him as he could not live alone. She said he also mentioned plans to once again go overseas.
"But after one good while, he come with another girl and then he say he wife na come back, she take somebody over deh," Edward added, before breaking into tears. "I sorry for Darling. She been quiet and hardworking. She alright. I sorry for she because it could happen to anybody. I never expect this man to do this cause he did talking so nice to people and so," she said.
Relatives and neighbours, when asked if Lilwantie ever complained to them about her marriage or her husband, said no and pointed out that they always seemed happy together.
Lilwantie Balack is the mother of four children.
Around the Web