Already dissatisfied with the scrapping of a five-year contract they had with government, young doctors are now bemoaning the removal of their tax-free allowance for working on-call and they want government to meet and discuss the issues with them.
"We don't want much from government because we love our jobs but how could they unilaterally decide to scrap the agreement and put us on another system? Could they not meet with us? Our views don't count for something?" one dissatisfied young doctor, who did not want to be named, vented.
"Practically speaking, $1 now is worth more than $1 when I am 55 [years old] so I feel the gratuity system worked for young professionals like myself, where I was able to purchase things and start building my family even as I saved independently for my old age," the doctor added.
The doctors' call for a meeting with government comes on heels of a statement from the Guyana Medical Association (GMA) that strongly criticised the taxation and accused government of breaching its contract with the doctors.
Most of the doctors would have signed up with government to study overseas—largely in Cuba—in exchange for serving upon their return for a five-year period under a stipulated payment plan.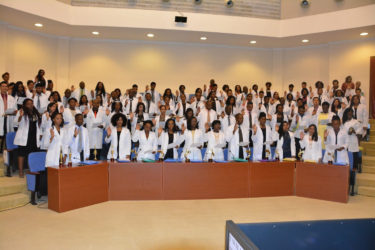 In the contract, it was stipulated that the doctors would work for a monthly salary ranging from $150,000 to $188,000 net per month but would receive a biannual gratuity equivalent to 22.5% of the accumulated six-month gross of their salaries.
In addition, they would be paid an additional $2,000 to $3,000 allowance for each time they are called out to work. This allowance was not taxed.
However, since the APNU+AFC government took office in 2015, contracts with returning doctors were put on hold and they began working for only their monthly salaries and allowances.
Then on March 27th, the doctors received formal correspondence from government of a "transition from contracted staff into the public service system." This was followed by another letter informing that the on-call allowances would be taxed.
"In applying the provisions of Section 7(1) of the Income Tax Act 81(01)…the following allowances are not subjected to income deduction," the letter read and listed the on-call service and rate.
"The finance department has no authoritative record from Cabinet or the Guyana Revenue Authority on which to continue treating the above allowances as non-taxable," the letter added.
Stabroek News reached out to Minister of Health Volda Lawrence for government's position on the matter but was told she was currently on travel duty and would not return until Monday.
An official of the Georgetown Public Hospital Corporation was also contacted and referred this newspaper to the newly elected Chairman of the Board Kesaundra Alves. This newspaper was unsuccessful in reaching her.
'Devastating'
Stabroek News did speak with some of the doctors who are now bound to government because of scholarships they received in their respective fields. Some explained that their contracts do not permit them to speak to the press or publicly about their plight, while others argued that they could publicly discuss their work. However, none of them would agree to be named.
They all stated that they would prefer to have the gratuity system and non-taxable on-call allowance kept and shared their reasons why.
A 24-year-old female doctor explained, "My family is not a wealthy one and me studying to become a doctor was because of the passion I have for medicine to assist my single parent mom and my siblings. We had already worked out plans for the gratuity monies, so this, for me, personally, is very devastating. Don't get me wrong, I do not want government to keep or change the system for one person but I know most of us preferred this system."
She added, "I do not have a car—and maybe they will know it is me who spoke because most of my colleagues drive—so when I am on-call and it is ungodly hours, I have to take a taxi to come in here at GPHC. So the allowance used to assist with that. I don't see it as exorbitant or extravagant, but you are going to tax that? Come on, please administration listen to us. No one ever asked our views, not one day and please don't let them tell you otherwise."
Her views on a seeming unilateral implementation was echoed by most of the other doctors, with one doctor seconded to an interior location complaining bitterly by phone. "We all have to serve for one year at a posting in the hinterlands and there are no additional benefits… Now it means that not only will we not get any gratuity but we have to work here under the worst of conditions…for a salary and here is expensive as hell," he said.
The group is asking that one of the Ministers of Health and the Finance Minister meet with them to relay their views to the President David Granger and his Cabinet. They said that if their gratuity is pulled, maybe another measure equal to it could take its place but key was that they have a say in the terms of their employment.
"Is it too much to ask? We cannot speak for the country to see a face and hear our cries but the public health care system will suffer since doctors will leave as soon as a contract ends to take up employment in the region where they are paid five times what they make here. Please give us a meeting," one doctor asserted.
'Betrayal'
The Guyana Medical Association has also spoken on the matter, while saying government was being unfair in breaching the contract.
"The Guyana Medical Association notes with concern the recent breakdown in communication between the government and the young doctors that have regrettably affected the public health care delivery system. The GMA has maintained contact with the young doctors, many of whom are members of the association. They have informed the steering committee of their recent woes that they are experiencing at the hands of the Government of Guyana, through the Ministry of Public Health. These grievances have crystallized, in the face of the recent ultimate declared by the government, that have abolished the five-year contract for service as bonded employees of the government. As such they have lost their status as contract employees, along with contractual benefits," the association said in a statement.
"This betrayal of their reasonable expectations is unilateral, thus further compounding the sentiment of distrust and resentment that prevails among the affected young doctors. The GMA will not support unconscionable and unilateral acts of the Ministry of Public Health in the absence of reasonable explanation particularly by the authority, to the predicament of young doctors. The Ministry of Public Health has remained silent and adamant in seeking to enforce their unilateral and oppressive measure. The GMA remains steadfast in solidarity with the young doctors as they face an uphill battle that impinges on their means of survival. The GMA urges the Government of Guyana to withdraw its ultimata and urgently meet with representatives of the young doctors to address mutual concerns and conclude mutually agreeable solutions," the statement added.
The opposition PPP/C has also registered its concerns, saying that over 600 doctors in the public health care system will be "gravely affected" and that government should urgently address the issue.
"The establishment where they get a public service salary is far below what you get on contract… They are all gravely affected… some of them who are already in their five-year contracts, and they want them to abruptly end it. They already have a contract signed between government and themselves and now this government is breaching that and telling them 'you have to come under this fixed establishment by such and such time' and that is not right," PPP Executive and spokesperson on health matters Dr Frank Anthony, said.
He added, "The doctors are saying 'don't give us an ultimatum, sit with us and let us discuss this…' I don't think it will hurt to do so."
Around the Web