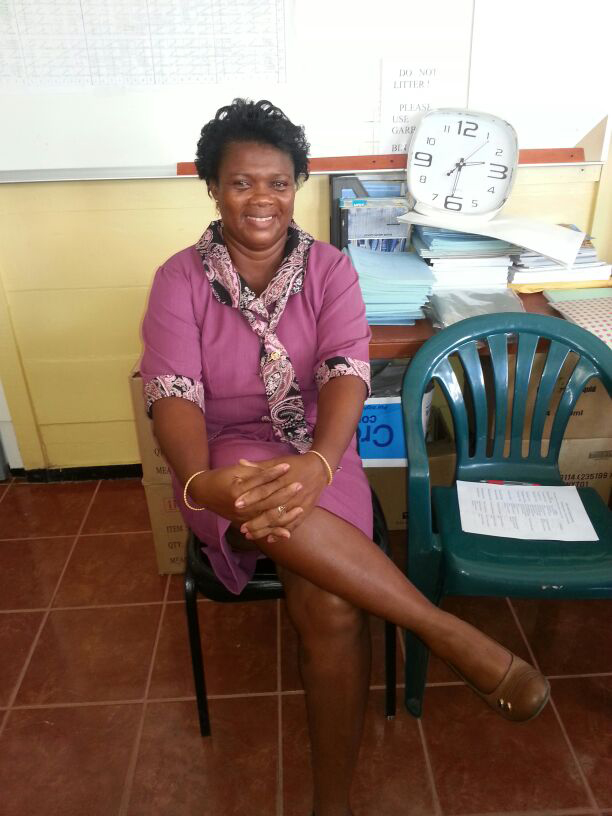 After over 30 years in the teaching profession Sharon Smith has put away her chalk and may have erased her last words from the blackboard but education has not heard the last of her and if given the opportunity, she has much more to offer.
"Teaching is a very challenging job, but challenges are good because they force you to set high standards and achieve them, but you can't do it without God…," Smith told the Sunday Stabroek in a recent interview.
Over the years, hundreds of children benefited from Smith's tutelage, some whose lives she impacted outside the formal classroom setting, along with some of their parents. In fact it was the parent of one of her former students who recommended that the retired Headmistress of Christ Church's contribution to the school system be highlighted.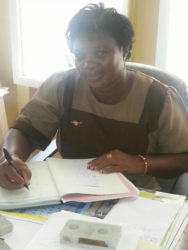 It was not the challenge she was running from when she left the classroom prematurely, as at 51 Smith had four more years in the system, but due to ill health she was forced to ask for voluntary retirement which became effective as of last Friday.
She is not comfortable talking about her health as according to her she does not want anyone to "show me sympathy" but it was a case where she realised that her job was stressful and because of her ill health she could no longer give her all, nor was she taking care of herself.
"Some mornings I would wake up and I just did not have the energy to go to work. I wanted to take the school so much further, but when you realise that you cannot perform to the best of your ability it is better to take a back seat," she said.
As headmistress since 2013 Smith recalled that most days she would arrive at work between 6.45 and 8.30 am and she would leave after 6 in the evenings.
"Always the first to arrive and the last to leave," she said with a small laugh but then on a serious note pointed out that as head she had ultimate responsibility for the school and she always tried to get it right.
"Being the head is a stressful job…," Smith said reminding of a recent incident where a headmistress of a school in Georgetown died suddenly while at work.
"When I became head teacher I neglected my health because I wanted to do so much and many times I would not even eat on time," Smith said candidly.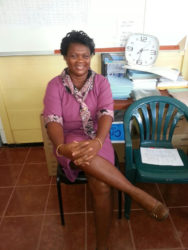 But Smith feels she has much more to offer and will take some time off and take care of herself before seeking to take up a position in the education sector.
'I cried'
While she knows that it is critical that she takes care of her health, Smith was still brokenhearted when the doors of Christ Church Secondary School closed behind her for the last time.
"When I was leaving I cried so much I could not have spoken to the children. The children cried, the teachers cried," she said and her eyes teared up as she spoke.
Smith started out as a pupil teacher in 1982 at the Cove and John Primary School and later taught at the Victoria Primary School before attending the teacher's training college. Unfortunately the records for the years she taught at those schools cannot be found, but Smith said she is still trying to find them.
While she would have given more than half to her life to teaching, and does not regret it, Smith said it was not a case of her yearning to enter the profession that propelled her but rather it was a result of her "idleness."
She had written the Caribbean Secondary Education Certificate (CSEC) exams twice and was out of school by 15+. Her mother and stepmother had died and Smith was living with an older sister who insisted that she find a career.
"My sister said, 'you know you are not going to stay in this house idle'. My brother-in-law too had a problem with me going out on the road and liming and just being idle. At that time I was not thinking and I didn't even know what I wanted to do I was thinking about a typist or something…," she shared.
The urging from her sister saw her signing up to do nursing at the St Joseph Mercy Hospital.
"I was going to start at the hospital but then a teacher advised me to go to college and I applied and got through, maybe because the father knows I did not really want to do nursing because I could not even stand blood."
And even after college, Smith said, she attempted to change her career and at one time had gotten a job at the Guyana Bureau of Statistics "but the salary was not good and they begged me to start and even tried to raise the salary…" but in the end she did not take the job. She had even applied to be a Foreign Service Officer but the acceptance letter came two weeks after the appointed date and in the end she remained in the teaching profession.
"I just say 'Sharon, relax yourself and stay where you are,' and I have not regretted it."
Smith graduated as a primary school teacher and taught at the Enmore Hope Primary School for several years before she decided she wanted to mark CSEC papers and applied to go to a secondary school.  She was later employed at Christ Church where she remained until her retirement.
She started working with the Caribbean Examinations Council in 1996 as an assistant examiner and after five years she was promoted to examiner. She is also currently a Grade Six chief examiner for Social Studies. In 2008, she was the valedictorian of the Ministry of Education's two-year certified management programme for senior teachers.
Grounded
Over the years Smith said she became grounded in the teaching profession "and I loved my students and the fact that I could make an impact in the children's life.
"You know sometimes parents would come and say, 'Miss I don't know what else to do you try with him or her' and I would speak and work with that student and eventually they would turn their lives around… that is what kept me going all those years," Smith shared.
From time to time she would meet past students and they would hug her and some would say 'Miss if it wasn't for you I don't know where I would have been today, maybe I would have already died.' She recalled that she had worked with a child, whose parents were both teachers, but were at their wits' end and in the final analysis the child graduated with 11 CSEC subjects.
"I have several students that I am so proud of… many of them would return and say 'Miss what you instilled in me even though you think I was not listening I was listening.' Some of them who failed at CSEC they went back and some would say they are at UG, they have good jobs, have their own businesses and I am so proud of them."
Laughing, she said sometimes she does not even remember some of the faces but everywhere she goes there is a past student, even on an aircraft at times.
Smith has had her difficulties with parents who would have visited the school bent on being involved in a verbal or physical confrontation.
"There are situations that sometimes you can't control but you have to challenge yourself to control the way you respond to what is happening; that is where the power lies. Sometimes you use a smile or silence; smiles can solve problems and silence can prevent problems…"
Her years as a headmistress, Smith said, also proved to be tough but she was determined to be the best administrator she could be.
"As an administrator you have to be very vigilant. You have to treat your staff like human beings…, be it academic or auxiliary staff. You have to create an environment that is conducive so as to motivate staff to perform even in the face of challenges. You have to ensure that their needs are met and you have to listen to them. You have to habitually say thank you or congratulate where necessary, you must offer encouragement because some people look forward to that."
She also cautioned that administrators have to be fair in their utterances as that is the only way one can gain respect from others. She also strove to resolve conflicts in the early stages before they became chaotic.
'Used to be'
Smith acknowledges that at one time Christ Church was not a school many wanted to send their children to.
"It used to be in the negative limelight for a long time, but it has changed and I have asked the staff to build on that," she stated.
Smith has confidence in the public school system even as she pointed out that all systems have problems but students have excelled in the system. She said that once both the child and the teacher did what needed to be done, the system worked for the child.
"I know that some teachers just show up and don't teach, that is not a good teacher," Smith noted.
Smith is a mother of a 16-year-old who is in the lower sixth form at Queen's College and she is very proud of his performance.
The proud mother said her son's dream is to become a chemical engineer and she hopes that he would be given a scholarship after sixth form since he would be unable to pursue such studies at the University of Guyana.
"My son is self-motivated and he works hard, I am blessed to be his mother; he is a very sweet child," she said smiling.
Around the Web