Residents of Cinema Road, Melanie Damishana, East Coast Demerara said they have been suffering as a result of the condition of the road and are calling on the authorities to bring relief.
The road which is the main access in and out of the village has been left to deteriorate significantly, forcing drivers to find alternative routes.
As far back as residents could recall the middle section of the road has been in a deteriorating state.
One resident told Stabroek News that some seven years ago the road was fixed but it was back to its previous state making it difficult for road users.
"For taxis and buses to come through here we get problems when they reach to this part… They would complain and then would have to take a detour through another road and come around," said a woman.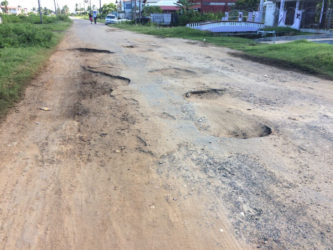 "It has been this way for years every time repairs are done it comes back to this. They don't do nothing proper, resulting in this. They cover the holes and when rain fall the loam wash away," said Raymond Grant.
A member of the Freeman family said they have been living in the village for the past two years and desisted from using the road.
"We have to use the other side, what they would do is patchwork and then it go back to this state. For two years we are living here and it is like this. First you could have managed to drive there but now you can't manage to drive there at all and we don't use it," she explained.
"It causes inconvenience to us because you don't want to use the line, but you have to drive there and then you have to use another road to get to the main road and it takes up your time."
In a letter published in Stabroek News' March 21, 2017 edition, Timothy Alphonso Smith said, "The middle section of the road is in a serious state of disrepair, with craters becoming larger than ever, and potholes causing hardship to vehicles and pedestrians alike."
He questioned "What else can we do?" since residents have tried everything from putting down lots of sand and mud, to builders' rubble.
In a bid to get some help, Smith said a letter was left with the secretary for the Ministry of Public Infrastructure, highlighting residents' plight, but no reply has been received.
Stabroek News made efforts to contact the Dion Abrams Chairman of Buxton/Foulis Neighbourhood Demoncratic Council and the Ministry of Public Infrastructure but got no response.
Around the Web