In addition to investigations into the procurement and inventory-keeping processes at the Public Health Ministry, expert help should be solicited in preparing a sound data-management system, Shadow Minister of Health for the People's Progres-sive Party, Dr Frank Anthony has said.
"I think they should have an investigation into the whole procurement system where they need to do a systematic review … There are very experienced people who have been working within the ministry and should be used," Anthony told Stabroek News last week.
Anthony said that the current issue surrounding the fast-tracking of over $605 million in emergency drugs to four companies would not have happened if government had heeded his warnings last year December that there was a countrywide shortage of pharmaceuticals, especially at the Georgetown Pub-lic Hospital Corporation (GPHC).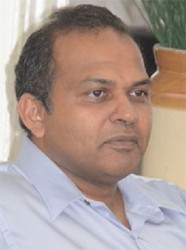 Minister of Public Health Volda Lawrence has come in for severe criticism for her role in the fast- tracking of the procurement. But she has distanced herself from the process saying she was not involved.
Anthony, himself a medical doctor, thinks a GPHC probe is not enough. He says that a thorough investigation into the procurement of the emergency drugs is indeed needed but most important was the overall procurement system. He stressed that it would be from a government-commanded inquiry that the system would be looked at in detail and sound recommendations listed. These recommendations, he believes, when implemented will help to avoid a repeat of the procurement dilemma, implement proper and modern data management systems, thus alleviating drug shortages.
"I had brought a motion in the National Assembly, when Dr [George] Norton was health minister, and government vehemently denied there was a shortage, although information was there to show that there was a chronic shortage. This is not something new, so there are shortages at the time I think government chose to deny and there were other persons who spoke on their side saying too there was no shortage. So I find it quite surprising now that both Norton and Lawrence are admitting. What happened? The procurement of drugs and medical supplies is something that is not done in an ad hoc manner," he said.
"Based on consumption patterns you can know what and what you should have and the cycle… and in the drug bonds you should have the stock-keeping data so when you fall below a certain amount you know you have to order and you don't wait until you exhaust every tablet and pill. Every personnel dealing with procurement and management and the pharmacists and others will know what is happening so you have to have that buffer…. There has to be an investigation to know if these measures are in place," he added.
Around the Web