The woman who was living with the Mibicuri man accused of strangling his wife and then burying her in their backyard says she wants nothing more to do with him and also complained of abuse during their four-month relationship.
Sunildat Balack, also known as 'Redman', 45, of Lot 117 Mibicuri, North Black Bush Polder, Corentyne is to be charged with murdering his wife Lilwantie. He had told various stories to relatives about his wife's whereabouts including that she had gone to the US and was not returning. He later brought 21-year-old Omadevi Nathoo into his home and had her wear his wife's clothing and her wedding ring.
Nathoo, who was held by the police during the investigations, on Saturday broke her silence following her release.
According to Nathoo, when she was placed in custody, she was unaware of the matter since the man had told her that his wife left the country and would never return. She explained that she had been living with him for over four months, noting that before she went to his house she inquired several times as to where his wife was and if she would ever return.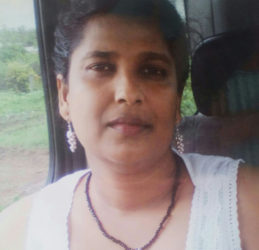 "On the 14 of December he contact me and ask me if I decide my mind if i'm going home with him, I talked to his family and he hold out that he wife gone America and she spoil the visa and she na coming back".
Nathoo, originally of Albion Front, Corentyne, recounted the days she spent with Balack.  She stated that she got together with him because she loved him. She then stressed that she genuinely wanted to be his wife and to make a home with him. She explained that things were going well for about one month into their relationship. She said, "When I come live here, all the woman clothes been home here and he tell me let me nah scared let me wear anything me want".
Nathoo shook her head in disbelief as she recalled that she wore the dead woman's clothing.
"Me used to wear she sari them cause me nah been bring in clothes when me come", she noted. "The first month I come home with he everything went going good", she said. However, as time passed she noticed the now murder accused's behaviour began to change for the worse.
"After one month I start see changes with him, he start to behave different with me, he get passion and so steady", she relayed. She recounted several instances when Balack got physical with her. She recalled that one time he asked her to sun bora seeds, however because of the weather she did not, which led to an argument, which soon became physical. Nathoo stated that on another occasion, she questioned him about money, since according to her he would take out large loads of vegetables but would not return with the correct amount of money. She said this annoyed Balack terribly. After an argument she said, "He slap me and me slap am back".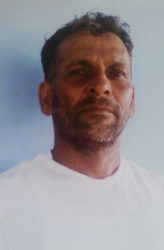 She said that she then went over to a mandir and when she returned he was in the verandah drinking so she went upstairs quietly. She said that he however started to beat her and she said that she was sorry. Not having cooked food, she told him that she was hungry but he refused to buy any food saying that she had to starve. Eventually, he relented but she said that there was further drama when he nearly collided with another vehicle.
"He tell me you want me turn this car in the trench, he say he know how fuh save he self, that he go jump out and lef me to die", she recalled.
Slammed
As she recounted the threats, she noted that they were visiting a relative of Balack, when he got annoyed at her and suddenly slammed her head into the wall in the middle of the gathering. She noted that the months she spent with him she endured harassment, abuse and embarrassment.
According to Nathoo, Balack mentioned to her that his wife had skills. "He used to tell me how she and he does plant the garden together and me tell he that me na know bout that, me a road gal".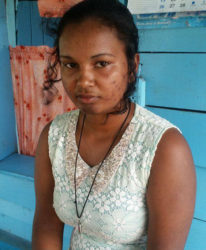 Nathoo said that Balack was controlling. "He never want me go nowhere alone, he always got to go with me, he never want me talk to me mother them and he does warn me na fuh talk with them neighbours that he nah want them know he business".
On Friday last, Stabroek News interviewed residents of the area, who stated that Balack's wife, Lilwantie would always keep to herself. They had noted that the couple went all over together and that the woman hardly spoke to neighbours.
Speaking about the ring that she was wearing which she later found out belonged to the dead woman, Nathoo said, "The day after me take he me find the ring in he bag and me see is a girl ring cause it round and get a heart and me start to fight he, me think he buy it for somebody else, that he get somebody else but like fuh please me he say he buy it for me, let me wear it".
When ask if she would ever visit Balack in prison, she said, "No, me nah want see he again".
Nathoo explained that she is moving back to her parents' home. She noted with regret not listening to her mother, who she said was against her getting together with Balack. She said, "I gone take me time now with any other relationships".
Meanwhile, according to Commander of B Division, Ian Amsterdam, the bones found in the Balacks' yard have gone for DNA testing and investigators are awaiting the results. He noted that Balack is expected to be charged in the early part of the week.
Lilwantie reportedly went missing on Sept 6 last year. Her daughter Darshanie Devi Balack previously told Stabroek News that her father told relatives that her mother had left the country. However, her suspicions grew after her father kept changing his story. On Wednesday last week, with the guidance of the Prime Minister's representative in Region Six, Gobin Harbhajan, Lilwantie Balack's eldest daughter, Darshanie, filed a report at the Whim Police Station.
Police swiftly placed Balack in custody along with Nathoo. However, after his confession that shocked the Mibicuri community, investigators took Balack on Friday to his home, where he pointed out the location where he buried his wife, the mother of his children. After digging for about two hours, investigators made the discovery of bones and parts of the skull, which they took  possession of for DNA testing.
Lilwantie, also known as 'Darling',  was a mother of four.
Around the Web