Police are investigating the circumstances surrounding the death of a Lusignan handyman, who was found by neighbours on a street in the village with marks of violence yesterday afternoon.
Ramesh Narine, 42, of 341 Lusignan, East Coast Demerara, was subsequently pronounced dead on arrival at the Georgetown Public Hospital at approximately 5.50 pm.  Family members and neighbours were clueless about the events leading up to Narine's death.
However, 'C' Division Commander Marlon Chapman, in an invited comment, said police were summoned to the scene, where it was reported that the Narine had fallen and sustained a wound to his head.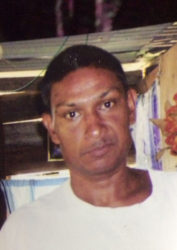 Savitrie Narine last night told Stabroek News her brother had been drinking with two friends a street away from his home. She noted that he had left home since yesterday morning and never returned.
"All we get a message that he lying down on the street… we went and see him and he breathing, but we left because it was a normal thing," she recounted, while noting that she rushed home to change her clothes to take him to the hospital.
However, after she left him, "a girl run come and tell meh 'aunty, aunty Ramesh dead.' And I said, 'Girl he na dead. He still breathing…'"  However, her worst fears were confirmed when she returned to the spot where her brother was lying.
The grieving woman added that her brother was found marks on his face and a gash to the back of his head.
Police were immediately summoned to the scene.
"We don't know what happened. He left home here at five o' clock this morning, to go and work and we didn't see he back…," the sister added.
Members of Narine's family noted that the individuals who were drinking with him were being questioned by investigators.
One neighbour informed this publication that she was returning home when she observed Narine on the parapet of the street gasping for breath. "I went home and call mommy and she called his family… we call the police too but they took a while to come," she said.
The man's body is at the Lyken Funeral Home awaiting a post-mortem examination.
Around the Web