A gold dealer was yesterday charged with defrauding a local commercial bank of a total of $956 million.
Six charges were read to Saddiqi Rafeek Mohamad Rasul, 34, of Prashad Nagar, who was granted his release on $3 million bail after he appeared before Chief Magistrate Ann McLennan in a Georgetown court.
It was alleged that between March 21 and March 22, at Bartica, with intent to defraud, Rasul obtained from Guyana Bank of Trade and Industry (GBTI) $96 million, $290 million, $89 million, $45 million, $298 million and $138 million by falsely pretending that he had cash in a Citizens Bank account to honour corresponding Citizens Bank cheques.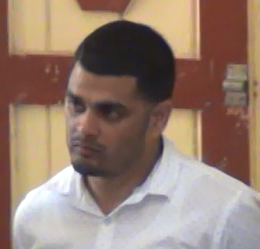 Rasul, the owner of SSS Minerals Trading, pleaded not guilty to all six of the charges that were read to him.
Police Prosecutor Arwin Moore objected to bail being granted to Rasul since he is still under investigations for another matter of a similar nature. Moore added that a female manager at the GBTI branch, who dealt with the cheques and did not follow the bank's protocols, is currently on the run from the police and a wanted bulletin has since been issued for her. The prosecutor told the court that four persons whose names are on the cheques tendered to the bank cannot be located and if the defendant is placed on bail he could potentially tamper with the witnesses.
However, Rasul's lawyer, Sandil Kissoon, noted that his client, who is a licensed gold dealer and owns several dredges and mining pits, has been criminalised for the negligence of GBTI, where he has his personal account. The defence argued that there is no criminal conduct with the transactions and the problem rests solely with GBTI. Kissoon said that the bank paid out the monies without verifying with his client's Citizens Bank account, which he uses for business transactions. The lawyer told the court that prior to Rasul being charged, he and his wife had been in discussions with GBTI about having the matter resolved.
Chief Magistrate McLennan, after listening to the arguments, granted Rasul $500,000 bail on each charge. Additionally, as part of the conditions for his release on bail, Rasul is to report to the Criminal Investigation Department every Friday and to lodge his passport. The matter was adjourned until April 21, when it will be called at the Bartica Magistrate's Court.
According to reliable sources, the police are making efforts to locate six persons in whose names Rasul allegedly wrote the cheques as well as the bank manager for questioning. After the alleged fraud was unearthed, the bank manager was relieved of her duties.
According to information reaching this newspaper, staff of the bank issued payments to Rasul without the cheques, which came from another bank, being cleared.
It is alleged that the bank manager was involved in allowing Rasul to withdraw the millions of dollars in cash. The cheques later bounced owing to insufficient funds and the police were called in.
Around the Web