'B' Division police officers are hunting for a Corentyne man who on Sunday evening allegedly attempted to set fire to a Liverpool, Corentyne house, with a woman and two young children inside.
According to Rozetta Seebarran, also known as 'Sherry', 27, who resides in the house at Lot 22 Liverpool Village, Corentyne, with her husband and her nine-year-old and five-year-old children, around 7.45 pm on Sunday she heard footsteps on her front stairs.
"I think was me husband come home because he went horse racing. I went in the kitchen [and I was] coming out to open the door. But before I reach the door I hear like water falling. It was gas [and] the liquid run [under] the door…," she said. "My son smell is gas and before I could reach further, all I hear is two spark, then I start see flame going to the mattress and me two children them went right there."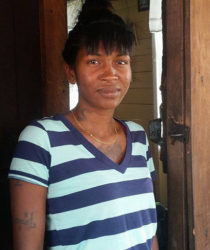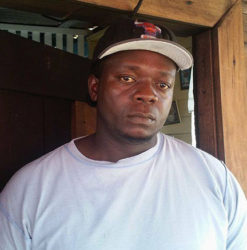 She further said, "I hear the footstep going down back. I run in me room and watch out [and] I see the person running from the bridge and pick he bicycle and ride away."
According to the woman, who is now living in fear, neighbours rushed to her home and put out the fire, rescuing her and her children in the process.
According to Seebarran's husband, Samuel Fraser, 28, a labourer, on Sunday he was at a horse racing event, where the suspected arsonist was also present. "He and a next guy get a story and I try fuh part them and I end up pushing he away from the guy.
He say I picking up for them man and thing and going on. I tell he I try fuh part you from that man and he still going on," Fraser said.
"He start cuss and go on that he gone burn down me house with me family and so inside. I deh at the race and I get a phone call that fire deh here so."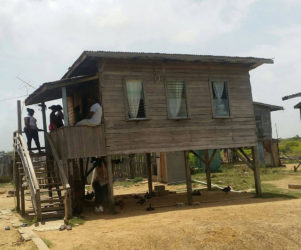 Fraser suggested that the man, who was heavily intoxicated at the time, left the event with the "same passion" and attempted to act on his threats.
Fraser's front veranda was scorched in the process and a mattress along with a hammock was damaged.
The suspect has been identified as a cattle farmer, who works in Liverpool Village, Corentyne. Fraser said the man was known to him. He is calling on the police to work swiftly and place the suspect in custody, to prevent any harm being done to his family. A report was filed at the Whim Police Station.
Around the Web