The Mibicuri man who last week confessed to strangling his wife, then burying her in the back yard of the home they once shared, was yesterday remanded to prison when he appeared at the Whim Magistrate Court.
Sunildat Balack, also known as 'Redman', 45, of Lot 117 Mibicuri north, Black Bush Polder, was not required to plead to the indictable charge, which stated that between Thursday September 6, 2016 and March 31, 2017 at Mibicuri north, Black Bush Polder, he murdered Lilwantie Balack, 39, of the same address.
The farmer was represented by Attorney at Law Chandra Sohan.
Magistrate Charlyn Artiga remanded Balack and he is expected to make his second court appearance on May 2.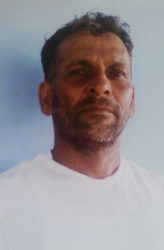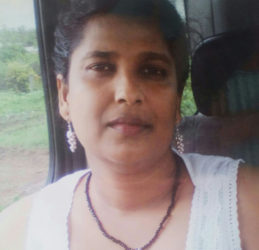 Meanwhile, according to information gathered, Balack had appeared in the Whim Magistrate Court earlier this year to answer to an assault charge. He was placed on a six-month bond and the matter was dismissed, after the virtual complainant, Omadevi Nathoo, 21, his girlfriend had told the court that she did not wish to proceed with the matter.
Lilwantie Balack was last seen on September 6 last year. Her daughter, Darshanie Devi Balack, previously told Stabroek News that her father had told relatives that her mother had left the country. However, her suspicions grew after her father kept changing his story. On Wednesday last week, with the guidance of the Prime Minister's representative in Region Six Gobin Harbhajan, Darshanie, filed a report at the Whim Police Station.
Police arrested Balack and Nathoo, but she has since been released on $25,000 station bail.
Balack, after being in police custody for an entire day, reportedly told investigators that he had strangled his wife and buried her at the back of their home after an argument about her wanting to leave the country, which he was against.
Investigators took Balack to his home on Friday, where he reportedly pointed out the location of his wife's grave. After digging for about two hours, investigators found parts of a skeleton, which will now undergo DNA testing.
Around the Web