A fire early yesterday morning destroyed a section of Actlabs Guyana at Beterverwagting, East Coast Demerara (ECD) and a quick response by the Guyana Fire Service prevented the blaze from spreading to nearby buildings.
Stabroek News understands that the fire started around 6.10 am at Lots 27/28 Industrial Avenue, Beterverwagting, ECD. The building is divided into two sections. The other section which houses an ANSA McAL bond was not affected.
The section where the fire occured is used for the testing of soil in the mining industry.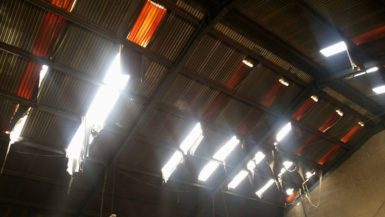 Fire Prevention Officer Andrew Holder, when contacted, told this newspaper that although the lab had a large quantity of heat generating equipment, the facility had no fire safety mechanisms in place.
While the circumstances surrounding the incident remain sketchy, reports revealed that the fire might have started in one of the machines used during the testing process.
According to Holder, the machines which include five pulverizers were all powered by electricity but were not operational at the time of the fire. However, he said, it is yet to be determined if there was a power surge in the area at the time of the fire or if anyone accidentally left on the machine overnight.
While there was no report of any massive damage to the warehouse, one or two of the pulverizers were destroyed.
This newspaper was told that the Government Electrical Inspectors Department was called in to examine the facility.
When Stabroek News visited the scene yesterday, workers were tightlipped about the incident and efforts to speak to an official proved futile.
Investigations are ongoing.
Actlabs is said to be a global group of companies that provides contract analysis in the geochemical, petroleum, industrial minerals, forensic, pharmaceutical and clinical, environmental and occupational health, agricultural and materials testing sectors. It has reportedly been operating in Guyana since 2008.
Around the Web