Head of the National Agricultural Research and Extension Institute (NAREI) Dr Oudho Homenauth said the institute will be monitoring all imported coconut planting materials from Mexico after concerns were raised by farmers about the lethal yellowing disease.
Concerns were raised by a farmer that the importation of planting materials from Mexico, where the disease is native, could possibly see coconut trees in Guyana being infected and spreading throughout the country.
However, according to Homenauth, farmers should not be worried since the plant materials are checked and verified in Mexico before they are sent and also tested upon arrival in Guyana. "It's one of those diseases that we don't have here. Mexico has it but it's a massive country and there are areas that don't have it anymore. The materials would've been certified by Mexico that they are free of lethal yellowing and once we certify it then we can't go against it," Homenauth said on Sunday, while explaining that every one of the 20,000 plant materials were checked at the point of import and the institute did not see any signs of the disease.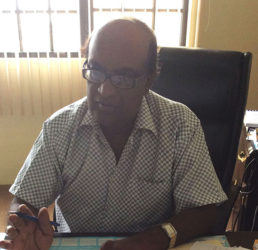 The planting materials would have been checked by the Mexican agriculture regulating body, SENISCA, which would have granted permission to have them shipped to Guyana.
He added that they would've been sprayed before being exported and also when they were received. "We will be monitoring them. We have set them in nurseries and we are going to be vigilant," he noted.
Additionally, according to the head of the institute, there are certain requirements that must be met before any plant material is imported such as: they have to be free of soil, trash, organic matter and pests of quarantine importance and have to be treated with a miticide, fungicide and also fumigated before shipping.
A legal Phytosanitary Certificate must also be produced that shows the planting materials are from pest-free areas and were inspected and found clean of the diseases. The materials are also subjected to inspection by a plant quarantine officer and would not be released if they do not conform to the sanitary certificate.
After importation the materials would have their shutter stalks removed and they would be fumigated with phostoxin tablets for 120 hours. In addition NAREI officers do field inspections of the growing plants at least once per month over two years to ensure there are no diseases.
"The lethal yellowing disease affects the internal tissues of the plant and is spread by insects, so if a tree is infected it wouldn't produce anyway," he said, while pointing out that NAREI would have asked Mexico and they would have both agreed to abide by international regulations in order for Mexico to be granted the clearance to export their planting materials to Guyana.
"So the materials are certified that they are free from lethal yellowing… but we are going to keep monitoring them to ensure that they are indeed free," he added, while stating that he is affirming to the public that there is no need to be alarmed or concerned about the disease crossing Guyana's borders. He also highlighted that some of the planting materials that would be coming from Mexico are resistant to the disease.
In terms of why there is an importation of planting materials, Homenauth explained that there has been a massive expansion in the coconut industry and as such there are not enough local planting materials to supply the need.  "We don't have the quantities because a lot of the nuts in the Pomeroon people are using it for water nuts and it takes time. We have allowed that because the people are interested in expanding and we don't have the supplies," he pointed out, while stating that there is a need for importation and soon there would be planting materials coming from other countries.
Around the Web