After four weeks of no work, East Demerara cane planters yesterday appealed to fellow workers to "stand ready" to lend support as they anticipate the closure of the East Demerara Estate which straddles Enmore and LBI.
At a news conference at the Guyana Agricultural and General Workers Union (GAWU) building yesterday, about 15 cane planters voiced their grievances at being out of work for weeks and GAWU General Secretary Seepaul Narine stated that it was necessary to rouse workers who may not be aware of what is going on.
Narine stated that 75 workers that have been affected are not being paid because they have been "denied rightful work," and referred to GuySuCo's request that they engage in harvesting as "forced labour."
He said that apart from rallying the support of other sugar workers, the union may go the protest route if necessary. "It seems as though only one language these people understand, the language of protest, the language of fight back, and that is not good for this nation, it's not good for this industry, it's not good for the workers, but if it is that's all they understand then we will have to invest in that kind of protest, we hope we don't have to reach that level," he said.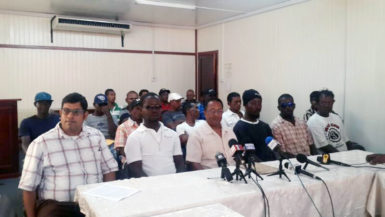 "Our position is, if it is that this is the preparatory step for the closure of the estate, come out and say it. Say it honestly, say it truthfully, and prepare people's minds for it. If it is that the jobs are now becoming redundant because we are not going to plant canes any longer, stop frustrating people, stop frustrating them…they get annoyed when I talk about forced labour but you tell me, what is this reflective of?" he added.
Narine' fears regarding the imminent closure of the estates stem from GuySuCo's request that cane planters be involved in harvesting the crop, which he said is "setting the stage of not having a crop to be harvested next year."
"Here it is GuySuCo is moving ahead and sending the signal that we are going to close and I say that out of the experience of what took place at Wales; because as soon as it was announced that Wales would be closed, they stopped all planting activities. We are seeing a repeat of that and that, no doubt, is leading us to believe that there is to be no more canes to be planted," he added.
A GuySuCo spokesperson recently told Stabroek News that has been a poor turnout by cane harvesters at estates around the country, which may affect how much land is available for planting of crops next season.
GuySuCo has said that the request for planters to engage in harvesting was due to a severe shortage in harvesting labour.
'Work that is available'
Reading from a prepared statement yesterday, GAWU official Aslim Singh explained that the agreement between the company and the workers provides for the provision of "five days' productive work per week until the end of harvesting." It was stated also that while a section of planters are sometimes involved in harvesting, at a meeting held March 24, between GAWU and the Industrial Relations Department and the Estate Management, it was outlined that planters would be provided with alternative tasks, such as "engagement in the factory, rat baiting, infield weeding, and canal cleaning."
"These are people who have worked their lives in the industry and you could see from the appearance of the comrades here, you can see age, you could see youth, you could see experience and you could see commitment among them… because the comrades are saying, 'we want to work, we want you to give us work that is available. Don't give us cane cutting, it's not our normal work,'" Narine said.
Meanwhile, workers spoke of how being without work for weeks has affected their families, many of which include young children, according to Narine.  "…I listen on television, the First Lady was speaking about empowering women; I'm having two little girls.
How am I going to empower them and I don't have a job? GuySuCo refusing to give us work for the past three weeks, I am not working anywhere for the past three weeks. I don't know how I am going to accumulate this money to look after these three kids," Leon Mobutu, an East Demerara cane planter, stated.
"Since I start working at GuySuCo they had cane cutting jobs available. I choose to plant cane. I don't know nothing about cutting cane…," Mobutu added.
Narine had stated that no offers were made by GuySuCo to train the workers in cane harvesting.
Narine related that correspondence was reportedly sent to the Minister of Agriculture, Noel Holder  regarding the issue but no response has yet been received by the union.
Around the Web