The trial of former General Manager of the New Guyana Marketing Corporation (NGMC) Nizam Hassan, who is accused of approving payments for substandard work on the rehabilitation of the company's Robb Street headquarters, began yesterday.
Hassan and Felicia De Souza-Madramootoo, the wife of the engineer Hanniel Madramootoo, stood before Chief Magistrate Ann McLennan, who presided over the trial in a Georgetown court.
The prosecution has proceeded with the trial of Hassan and Felicia in the absence of their co-defendants, Hanniel, his brother Phillip Madramootoo, and his friend Nizam Ramkissoon, both Directors of Constantine Engineering and Construc-tion Services Limited, which is said to be based in Trinidad and Tobago.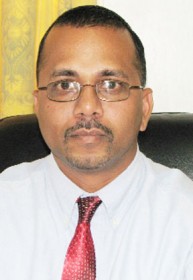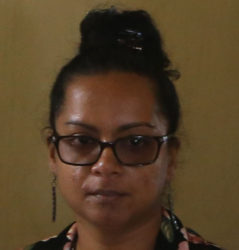 It is alleged that Hanniel, the former Agriculture Ministry engineer, conspired with Hassan and others to approve payments to Constantine Engineering and Construction Services, although the works were "incompetently and incorrectly" done.
During yesterday's court proceedings Detective Sergeant Sadesh Roopnarine, who is stationed at the Special Organised Crime Unit (SOCU), testified.
Sergeant Roopnarine testified to contacting Afraz Allie, who was the contract manager for NGMC, on July 15, 2016.  The officer testified to being shown email correspondence on his phone between Allie and Ramkissoon, a contractor for the construction of the GMC headquarters, which he caused to be printed.
Additionally, Roopnarine stated that he visited the commerce registry and uplifted a copy of the articles of the incorporation for Constantine Engineering and Construction Services Limited, which was later lodged with the head of SOCU.
Subsequent to Police Prosecutor Arvin Moore's request, Roopnarine was shown the print out of emails he would have been shown by Allie and it was later admitted into evidence for identification purposes.
However, when the prosecutor requested that the certified copy of the articles of the incorporation for Constantine Engineering and Construction Services Limited be shown to the witness and entered as an exhibit, an objection was raised by the defendant's attorneys.
According to attorney Marcel Bobb, who represents Hassan, and Glen Hanoman, who represents Felicia De Souza-Madramootoo, the document bore no copy of the certificate of the registry. However Prosecutor Moore stated that the document had the stamp of the registry.
Chief Magistrate McLennan later ruled that after taking into consideration both the arguments put forward by the prosecutor and the defence lawyers, the court was satisfied that the document was authenticated by the appropriate stamp and admitted it as evidence.
Roopnarine was then subjected to cross-examination by Hanoman and Bobb.
The prosecution then called Dr Oudho Homenauth, who was a director of the GMC board from 2009 to 2010. He recollected that during 2009, there were discussions about the construction of a new building for NGMC but he was unable to state if any money was granted for the construction of the building.
Homenauth was later cross-examined by attorney Hanoman, while Bobb declined cross-examination.
The trial will continue today.
Around the Web