The University of Guyana (UG) launched an Occupational Safety and Health Exhibition at the Turkeyen Campus on Monday, under the theme 'Optimize the collection and use of Occupational safety and health data.'
Speaking at the launch of the exhibition, which is being hosted on the first floor of the university's library as part of its observance of Occupational Safety and Health Month, Minister within the Ministry of Social Protection Keith Scott said, "The exhibition provides a perfect educational opportunity to workers, employers and students to learn more about work place safety and health practices."
Scott added, "The rest of the world has finally understood the role of safety and health. Starting this month, the world should understand that safety is part of our life. Safety carries down accidents and safety prevents accidents."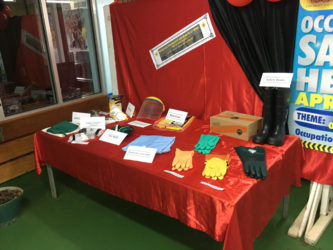 He alluded to the importance of data collection and how it can be used to predict and prevent accidents from happening.
"If you were to take that as an intellectual challenge at the University of Guyana, then we can use the information as long as you have data collection that is reliable. We would be able to do a lot of predictions that would benefit each and every single worker in this country," he noted.
According to the International Labour Organization, Scott said, there is a need to improve accurate data collection and, therefore, analytical skills will have to be sharp.
"We need to understand that we have the training. Our country can avoid disasters that other countries have had and our department at the Ministry of Social Protection will do everything in its power to ensure that the environment remains clean and safe and it is important that employers come on board," he added.
He pointed out that it is everyone's business and responsibility to assist the corporate world to ensure that the country is well-equipped and ready for the 21st century. "I am quite aware of the contributions of the University of Guyana to the development of occupational safety and health in Guyana," he added, before suggesting that the university should explore the possibility of offering a degree programme in occupational safety and health.
UG Deputy Vice-Chancellor Barbara Reynolds also pointed out that the university would spend an entire day to clean up obsolete equipment that may pose safety and health risks as part of its observance. The exhibition is slated to remain on display for the rest of the month.
Around the Web