A Central Rupununi resident, who allegedly fatally shot a man with a bow and arrow last month, was yesterday remanded to prison by the Chief Magistrate.
The courtroom of Chief Magistrate Ann McLennan heard that on March 16 at Tiger Plate, Kumu, Central Rupununi, Levi Stephens, 28, of Kumu, Central Rupununi, murdered Arnold Gordon. Stephens, a farmer was not required to plead to the charge.
Police Prosecutor Arwin Moore, who did not divulge the facts of the matter to the court, informed the Chief Magistrate that the police's file on the matter was still incomplete.
Chief Magistrate McLennan, remanded Stephens to prison and adjourned the matter until June 6, when it will be called at the Lethem Magistrate's Court.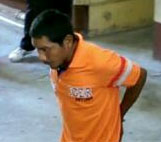 According to reports, Gordon, 24, a labourer, of Kumu Village, Central Rupununi was discovered dead around 4.30 pm on March 17, at Tiger Plate, Kumu Ferry area, Central Rupununi.
While the circumstances surrounding the incident remain sketchy, Stabroek News was previously told that Gordon and his six-year-old cousin had left home on March 16 to go fishing.
He was later attacked by Stephens who allegedly dealt him several blows about his body and then shot him with an arrow. Additional information revealed that the accused had allegedly approached Gordon and an argument had ensued.
During this process, the defendant reportedly armed himself with a piece of wood and struck Gordon about his body.
Gordon's cousin who was with him witnessed the entire incident and raised an alarm.
A search was carried out and Gordon's body was later discovered.
Around the Web