President David Granger last evening said that international peace and economic integration are the utmost goals of the Caribbean; goals, which he acknowledges are shared by the European Union, and were the cornerstone of the Treaty Establishing the European Economic Community (TEEEC).
The President, was at the time, speaking at the Photographic Exhibition and Cocktail Reception in commemoration of the 60th Anniversary of the Treaty of Rome, held at the Umana Yana, a release from the Ministry of the Presidency said.
"The Caribbean today, like Europe 60 years ago, yearns for peace.  The Caribbean seeks international peace, which is characterised by a dignified and secure life for our peoples.  It seeks economic progress, which is undergirded by special consideration to the needs and vulnerabilities of small-island developing and low-lying coastal states such as Guyana," the President said.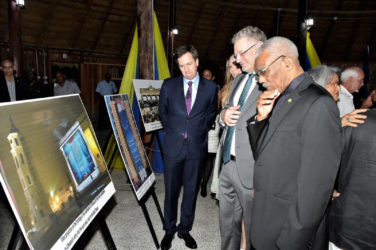 While congratulating the European Union (EU) on its 60th Anniversary, the President, who serves as the current Chair of the Caribbean Community, said that it is these common goals that also saw the Caribbean, which is part of the African, Caribbean and Pacific Group of States (ACP), entering into mutually beneficial, preferential agreements with Europe.  "The Caribbean, as party to successive Lomé conventions and signatories to the Cotonou Agreement, looks forward to building on four decades of ACP-EU relations," the President said.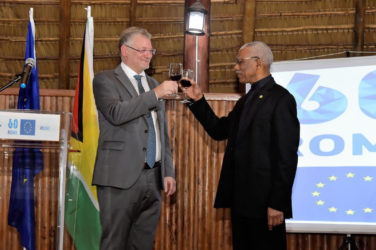 The President stated that  it was the Treaty of Rome that launched a programme of economic integration, which allowed the European Union to become a formidable economic community, accounting for 20 percent of global exports.
"The Treaty of Rome was inspired by the philosophy of promoting peace through economic integration.  Two World Wars in the first half of the twentieth century had taken a terrible toll on Europe.  The scars of the Second World War were still visible in 1957, 12 years after it had ended.  The Treaty of Rome was signed by six states, which were encouraged by the experience of the European Coal and Steel Community signed, six years earlier.  They were convinced that peace and economic progress could be secured best through deeper economic integration," the President said.
European Union Ambassador to Guyana, Jernej Videtic said that the founding members signed the Treaty having been inspired by a dream of a peaceful, common future of European integration. He noted that discussions on ACP-EU relations beyond 2020 are ongoing, and that these discussions must take place in a transparent manner, in an atmosphere of partnership and cooperation.   "It is of course of major importance to Guyana and other Caribbean countries that these discussions proceed, especially in view of the challenges facing the region and indeed the wider world,"  Videtic said.  The Ambassador pledged that the European Union will continue to be a strong and constant partner of Guyana and the Caribbean Community.
Around the Web