The office of the Director of Public Prosecution (DPP) is still looking at the case file, in relation to four-year-old Ramkarran Mohan who was struck down and killed on the Tuschen Housing Scheme Main Road, at East Bank Essequibo (EBE).
The file was sent by the Police, over a week ago, for legal advice before instituting charges against the alleged driver of the motor car which fatally struck Mohan on March 14th.
On March 25th the police said due to the circumstances of how the incident occurred, "greater attention to detail had to be exercised, prior to submitting the file for advice." They urged all concerned to be patient as a professional approach into the matter has always been at the forefront and investigations into a matter [are] not a 'fly by night' process."
Mohan, of 1008 Tuschen Housing Scheme, EBE, and a pupil of the Tuschen Nursery School, died on March 14, hours after he was struck down by a car on the Tuschen Housing Scheme Main Road, EBE.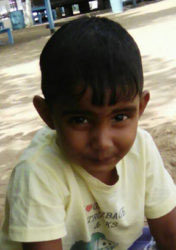 Stabroek News had previously reported that Mohan and his older brother had accompanied an uncle to the shop in order to purchase a ball to play cricket and were returning home when the incident occurred.
His grandmother, Bibi Khan, had told this newspaper, "My son had hold on to his hands. They were coming back from the shop right next to us, but the car come and hooked him out and he fell, and the car drive over he and stopped a good distance away."
Mohan was picked up by the driver and taken to the Leonora Cottage Hospital.
He was later transferred to the West Demerara Regional Hospital where he succumbed the same afternoon.
A post-mortem examination revealed that he had sustained a fractured skull and internal injuries.
The driver was taken into custody and was reportedly later released on $20,000 station bail.
Around the Web