Residents of Whim Village, Corentyne, Berbice finally have street lights, GINA said.
During a recent visit to his home village, GINA said that Prime Minister, Moses Nagamootoo decided that something must be done about the lack of street lights in the village. The Prime Minister's Region Six Representative, Gobin Harbhajan said the Prime Minister worked with the relevant authorities and "street lights are finally being installed in the community."
"It was very dark and residents complained of the discomfort this caused them. The Prime Minister with his initiative, collaborated with the Ministry of Public Infrastructure and currently we're installing about 14 street lights in various parts in the community," Harbhajan said.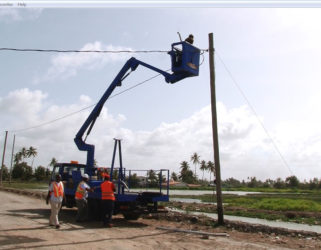 Harbhajan explained that other works are being carried out to upgrade the long neglected community.
He said that the Prime Minister also worked with the Neighbourhood Democratic Council in the area to clean and clear some drains which were clogged in the community.
Several roads in the community were also filled with crusher run and similar works will be carried out in nearby communities.
Harvey Ardeen of the Whim Kali Temple is grateful for the street lights. He said prior to the installation of the lights, residents were afraid to travel at nights or even visit the temple.
"We have suffered tremendously with darkness in this community.
This temple serves the people of the Bloomfield, Whim and the people are very eager to come out now for night session. Previously I have suffered tremendously from attacks and vandalism here at nights. I say thanks to the government for their kind assistance in putting in these lights," Ardeen said.
A total of 77 highway lights will be installed on the No. 19 Public Road between No. 50 to 55 Villages, Corentyne, GINA said.
Around the Web