Ganesh Dhanraj, who is the prime suspect in the murder of his wife, yesterday plunged into the Essequibo River at Roden Rust to evade the police.
According to Crime Chief Wendell Blanhum, acting on information received, several ranks visited Roden Rust, East Bank Essequibo, where they found Dhanraj. However, upon seeing the police, Dhanraj jumped into the river and never resurfaced. The search for him continues.
On Wednesday morning, the lifeless body of Dhanwantie Ram was discovered bracing against a couch where she lived in Parika Façade, East Bank Essequibo.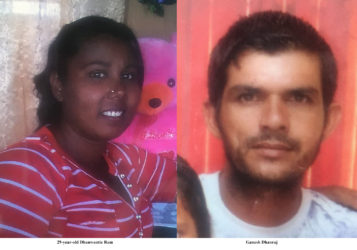 Ram's sister, Latchmie Jailall, had related to Stabroek News on Wednesday that her sister, along with her two children, had moved in with her after she had a fight with Dhanraj. However, even though during the week Dhanraj tried to convince Ram to return home she did not.
It wasn't until the woman was on her way to the police station early Wednesday morning that Dhanraj forced her into the house and locked himself with her inside.
After Jailall discovered that her sister was being forcibly held by Dhanraj she went to the house where she was not allowed to go in. She  went to her home and returned a little later at which point she discovered Ram's lifeless body. Dhanraj had earlier fled the scene.
Around the Web