Attorney General and Minister of Legal Affairs,  Basil Williams SC  on Wednesday met with a team from the US Department of State's Energy Governance and Capacity Initiative (EGCI).
A release from the AG's Chambers said that the team explained that it is committed to building infrastructural and institutional databases as well as to providing technical aid to countries that are in the early stages of developing an oil and gas industry.
"The team has committed to assisting in the oil and gas initiative as well as making observations on existing practices. The team hopes to subsequently make recommendations based on their observations to further achieve this goal", the release said.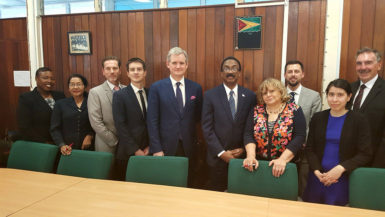 The release added that the team has agreed with the Attorney General that an "excellent regulatory framework is needed for the petroleum industry". This should be bolstered by specialists in every field including specialist accountants.
The release said that the Attorney General also mentioned that the Guyana Government intends to establish a sovereign wealth fund.
The team will be in the country up to April 12, 2017 to report to the Government of Guyana on its deliverables under its work plan, among other things, the release stated. In June 2015, then Minister of Governance and National Patrimony within the Ministry of the Presidency, Raphael Trotman attended  EGCI meetings hosted by the United States' State Department in Washington. Trotman is now Minister of Natural Resources.
These meetings were intended to aid in the development of this country's capacity to "responsibly" manage its oil and gas resources.
EGCI which is managed by the Bureau of Energy Resources at the State Department works in four areas of capacity building inclusive of the following:
– Technical understanding of the resource through applying the most appropriate technologies
– Financial issues that establish responsible systems and procedures for managing revenues derived from the sector
-Establishing and ensuring that national laws and regulations are consistent with international best practices
-Understanding mitigating measures that would protect the environment and people from the impacts of resource exploration.
Following the election of President Donald Trump in November last year, questions have arisen as to whether there would be any changes in this programme and others. The State Department is now headed by Rex Tillerson, formerly, up to 2016,  CEO of ExxonMobil which is the lead company in the historic 2015 offshore oil find here.
Around the Web