A 22-year-old Guyanese man was shot dead, execution-style, on Thursday evening after a lone gunman invaded the Laventille, Trinidad home of his female companion.
Dead is Raphael Collins, called "Boy," a chef, who hailed from Ann's Grove, East Coast Demerara. He was shot about nine times to his body and died on spot.
Stabroek News was told that Collins migrated to Trinidad more than a year ago. He was staying at an aunt's residence prior to his death and was expected to return to Guyana for the Easter holiday.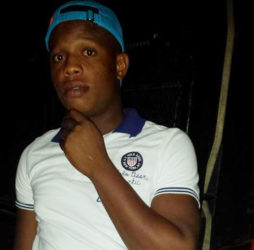 According to a report from Loop TT, police reports said that around 9 pm on Thursday, Collins was at the home of a female companion along Williams Street, Laventille. "The young man was said to have been seated in the gallery, while the young woman was braiding his hair," the report said, before adding that an unknown assailant entered the yard and, without warning, pulled out a firearm and shot at Collins multiple times.
The assailant then fled the scene on foot, the report stated. It added that the young woman was not injured. The police have no motive for the killing.
When contacted yesterday, a cousin of Collins, who wished not to be named, said the family learned of the shooting around 10 pm on Thursday. She said at that point they were unable to confirm the seriousness of the shooting until yesterday morning, when they confirmed that Collins had died.
She explained that the family saw various reports and messages of condolences on his Facebook page, confirming his death.
The cousin explained that the circumstances surrounding the shooting remained unknown up to yesterday afternoon, and the family was waiting on additional details.
She related though that Collins had never related to his family of having any problems with anyone that may have led to his demise or of being threatened before. "All we hear he was at some girl house—we don't know if it was his girlfriend or what—braiding his hair when he was shot," she said.
Collins resided with his grandmother in Ann's Grove before he migrated to Trinidad.
Around the Web