Magistrate Dylon Bess is to face the Judicial Service Commission (JSC) over a complaint that he has denied transgender Guyanese access to justice.
Gulliver, born Quincy McEwan, Director of Guyana Trans United (GTU), on March 20th, 2017, wrote the acting Chancellor of the Judiciary, Justice Yonette Cummings, complaining about Bess' continued denial of access by transgendered individuals to his courtroom. In the letter, Gulliver requested that Bess be sanctioned for denying justice.
Justice Cummings responded by way of a letter, dated April 4th, 2017, in which she stated that the complaint lodged by the GTU against Bess' conduct was placed before the JSC last week. As a result, the JSC has decided to call for Bess to appear and respond to the complaint.
Speaking with Stabroek News last evening, Gulliver said that the decision is a step in the right direction.
According to the GTU Director, bringing Bess before the commission doesn't mean he will be sanctioned, so the GTU, which has asked for a sanction, can only remain optimistic.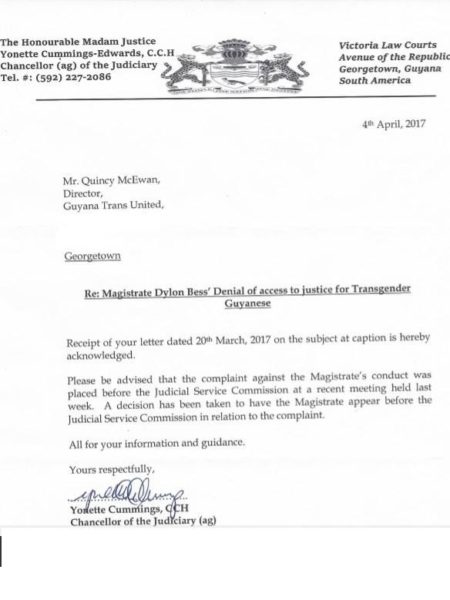 Magistrate Bess had been barring the woman Petronella Trotman, who was born a man but identifies as a woman, from attending court apparently because she was wearing female clothing. He had once ordered her to appear in court in a pants and shirt and without earrings.
On March 3rd, for a second time, members of the public were asked to leave the courtroom when the case was called. Magistrate Bess also barred Trotman from entering the courtroom before dismissing an assault case in which she was the complainant.
Trotman, who was dressed in female attire, waited for several minutes after the case was called and the accused subsequently exited the courtroom and informed that the matter was dismissed by the magistrate.
Trotman, who was disappointed by the magistrate's decision, told Stabroek News that the case got dismissed even though she was present and did not get a chance to testify. This is at least the second time Bess has refused a transgendered person access to his court.
Senior Counsel Ralph Ramkarran, in his Conversation Tree column last month, argued that while Magistrate Bess may have thought that what he was doing was right, Trotman committed no wrong. "This is no small matter. Petronella's rights were seriously violated. It is hoped that the Director of Public Prosecutions will take over this matter, appeal the decision and ensure that justice is done to a law-abiding citizen who was refused justice for no justifiable reason," Ramkarran wrote.
In 2016, members of the Lesbian, Gay, Bisexual and Transgender (LGBT) community and supporters took to the streets outside the Georgetown Magistrates' Courts and protested on several occasions against Magistrate Bess' decision to bar transgender persons from entering his court room.
The community accused Bess of discrimination after he barred one GTU member from entering his court while she was dressed in women's clothing in 2016.
Around the Web