Recently selected Chair-man of the Central Housing and Planning Authority (CH&PA) Board Pastor Elsworth Quintel Williams says that his top priorities include ensuring that those persons who applied for house lots in the 90s are not forgotten, repairing defective homes built by the last government and expanding the housing sector.
Williams is of the firm belief that consolidation and expansion is what is needed to strengthen the sector.
Recently he spoke to Stabroek News at his South Road office about his plans and the direction he wants the sector to take.
Acknowledging that there are some challenges facing the CH&PA, Williams said he was trying to get himself acquainted with the workings of the Housing Ministry. He said he was concerned that there were at least 25,000 persons in the system awaiting a house lot allocation.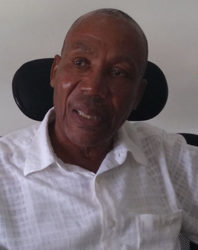 "We cannot positively deliver on half of them this year. We don't see it," he stressed, while adding that an effort is being made to minimise this amount through government's new housing solutions project.
According to Williams, the worrying thing is that some of those on the waiting list had applied in the 90s. He spoke of meeting the needs of those persons before any attention is given to the others who applied later.
"My desire to be able to do something or see something happen as quickly as possible in meeting that challenge and so those persons would… be able to enter and be able to live in their own homes," he said.
Williams said that another challenge was that some of the housing units built by the past government are uninhabitable. "Some of those houses have serious defects. Some of the problems might be structural in nature. It could be foundation and other things and some of these persons are already paying back on a mortgage and still have to pay rent and cannot yet move in to a house which they acquired," he said, while adding that those already occupying the houses are encountering difficulties.
According to Williams, most of those who have found themselves in this dilemma are poor people. In this regard, he said the CH&PA is committed to correcting these deficiencies and ensuring those occupying these houses are comfortable and satisfied.
He said the members of the new board have been meeting, though they have not yet taken the oath of office and have decided to help in repairing and rebuilding some of the structures so that homeowners can have homes that are "suitable and fitting for human beings."
Other members of the board, as announced in the February 16, 2017 Official Gazette, are Chaitram Harry Persaud, of the Anna Regina Town Council; Winifred Heywood, of the New Amsterdam Town Council; Ranwell Jordan, former Mayor of Georgetown; Tricia Hamer, of the Rose Hall Town Council; Shantaram Sugrim, of the Corriverton Town Council; Brian Lewis, of the Linden Town Council; Sonia Gumbs-Luke, of the Environmental Protection Agency; Michael Hutson, of the Guyana Lands and Surveys Commission; Naresh Mangar, of the Central Board of Health; Egbert Carter; Mallika Mootoo; and Thandi McAllister.
Williams told this newspaper that he was informed that there are 16 housing schemes with electricity issues and in some cases no running water. He has assured that the authority was working along with the Guyana Water Inc and Guyana Power and Light to ensure that each area is outfitted with these essential utilities.
"Consolidation and expansion will be my two-pronged approach to be able to strengthen what we are doing, to build capacity… to be able to expand because we cannot stop expansion. There is a great need for housing at this point in time," he said.
Forgotten applicants
Asked what his number one priority is, Williams said that being able to tackle those "forgotten' applicants will be the main focus as well as repairing the houses that have already been paid for.
He added that he would like to see the creation of the kind of climate that is conducive to growth and continued development through teamwork and the common vision of serving the people of Guyana in the area of housing.
He said the first step is inviting those applicants from the 90s to a face-to-face meeting to let them know that they are not forgotten and that the authority was working to ensure their dream of home ownership is realised. He said that these persons are the priority.
Williams said that he and members of the board plan to develop good relations with communities by conducting visits. While stressing that he is a "people person," Williams noted that he likes to be on the ground and therefore would be seeking to meet the people.
He said the plan is for the board members to use the two or three weeks after they are sworn in to visit each of the schemes to interact with residents and to have a first-hand look at their living situation.
Williams said that it is his love for Guyana which propelled him to return here and when he was asked to join the board, he decided to accept. "It is one thing to be on the outside and say what should be done and what needs to be happening….," he said.
He added that he enjoys preaching and serving the people. "Life is about others. How you serve others and so I see this as an opportunity to be able to bring leadership in one aspect… to be able to come into the housing community and be able to give leadership," he said.
Williams said that it was very easy to accept the offer to serve since he needed to support the President, who is trustworthy and a man of integrity, and whose heart is in serving Guyana.
"I love the programme [housing] and I love the man and one of the things also that I am appreciative of is to see diehard PNC and PPP coming together in a coalition. Something is impossible all over the world and when you see unity… and come together for the common good of the nation, why would you not support something like that?" he said.
The last board was dissolved at the end of last year.
Williams is a part of the Full Gospel Fellowship which has over 150 churches throughout Guyana. At present, he is the pastor of the Albouystown Fellowship. He has been a superintendent of the Full Gospel Fellowship for over 25 years and has been a member of the movement for over 40 years.
He is responsible for the movement in Suriname, French Guiana and the Caribbean.  He is also part of a team which gives corporate support to 80 countries.
Around the Web