The National Frequency Management Unit (NFMU) on Friday launched its 'Girls in ICT' hashtag competition, which challenges individuals to explore and share why girls are needed in the information technology sector.
The competition asks participants to share, in 150 words or less, why "Tech needs girls," in order to win prizes. The first prize is a Lenovo tablet, compliments of Vishnu Panday and Associates; the second prize, an Asus tablet, compliments of E-Networks Inc; and the third prize, a computer course package offered by Global Technology Inc.
In order to win any of the three prizes, participants must solicit the most likes from their posts, which must be uploaded to the 'Girls in ICT Guyana' Facebook page. Posts must carry the hashtags '#girlsinictguyana' and '#equals' in order to be eligible.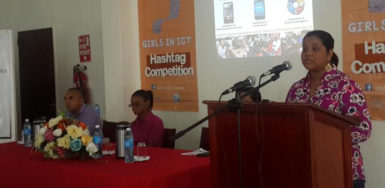 The competition will close on April 25 and the announcement of winners will be made on April 27, International Girls in ICT Day.
International Girls in ICT Day, observed on the fourth Thursday in April every year, aims to "create a global environment that empowers and encourages girls and young women to consider car​eers in the growing field of ICTs."
Locally, the Girls in ICT initiative is spearheaded by the NFMU, which, it was related, has three major activities planned to commemorate the celebrations this month.
Keren Boyal, Executive Assistant at the NFMU, stated that the organization will be taking a three-tier approach to this year's programme, which will include a symposium on April 27, a Girls in ICT mentorship programme at the Umana Yana on April 28, where participants will be able to rub shoulders with women ICT professionals and entrepreneurs, and a Tech Day Camp, which will be held across three regions.
Valmiki Singh, head of the NFMU, related that the activities seek to create awareness of opportunities in the sector, in which women are underrepresented. Singh stated that approximately 2,600 girls in Guyana have participated in over 20 events held in observance of Girls in ICT Day, since its commencement in 2012.
Around the Web